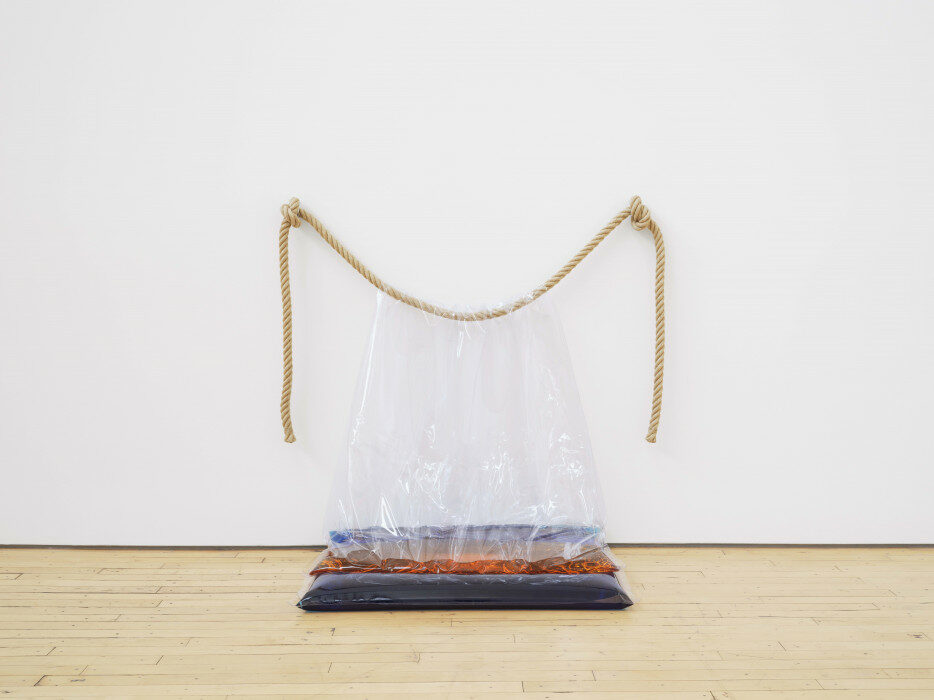 10 art events and exhibitions to keep track on in 2023
2023 is a year full of ephemerides and major art biennials around the world. In this article, Artkofa brings together 10 events and exhibitions highlighted as important moments and focuses of attention in the art world — dates and curatorships that promise to set the next trends and raise indispensable artistic, social and historical debates for you to keep on your radar. Take note!
1. São Paulo Biennale, "Choreographies of the Impossible"
In the last decade, collective curatorships have become a common practice in many institutions and biennials. Although one cannot categorically state, innocently, that such a trend represents an advance in representativeness and an innovation in the traditional formats of making and thinking art, this alternative curatorial model opens space for many interesting considerations and experimentations regarding group decisions and co-authorship in a universe that, as we know, has long privileged the signature and the "genius" of a creator, alone and autonomous. After Lyon Biennale 2019 and Documenta 15, it is now the turn of the largest exhibition programme in the Southern Hemisphere to take on, for the third time in its history, a collective of curators. The 35th São Paulo Biennale, which this year takes place between 6 September and 10 December, will be led by Diane Lima, Grada Kilomba, Hélio Menezes and Manuel Borja-Villel, four talented curators and researchers who, overtly adopting decolonial perspectives, will invite us to imagine radically, reaching out to — and, perhaps, touching on — the impossible.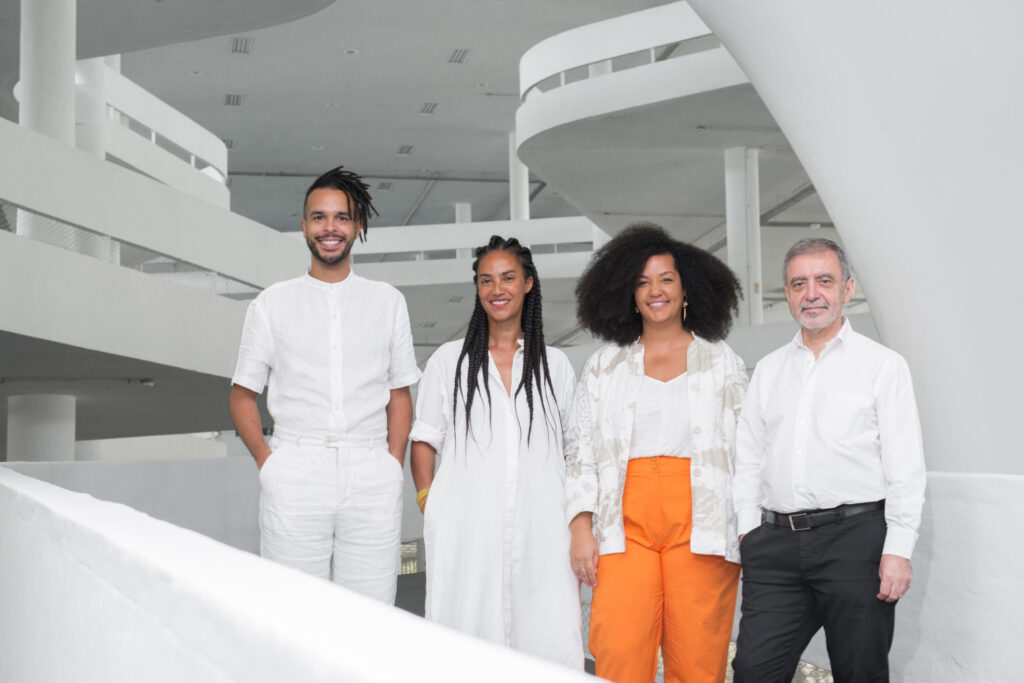 Curators of the 35th Bienal, from left to right: Hélio Menezes, Grada Kilomba, Diane Lima and Manuel Borja-Villel © Levi Fanan/Fundação Bienal de São Paulo.
2. Senga Nengudi's retrospective at Dia Beacon
Born Sue Irons in Chicago, Illinois, Senga Nengudi adopted her African name in 1974, the year she visited the exhibition "African Art in Motion: Icon and Act" at the UCLA's Wight Gallery. With works belonging to Katherine Coryton White, an important collector of African art in the 1970s and 1980s, and curated by Robert Farris Thompson, the show interpreted "Africa as a verb" and its art history as a ballet, "a blending of movement and sculpture, textiles, and other forms". Multiple, dancing, ephemeral and eternal: this is also how we describe the work of Nengudi, an avant-garde black artist influenced by Yoruba ritual practices, jazz improvisation, and Japanese theatre and dance forms, such as Kabuki and Butô. In 2023, her varied repertoire and unique sensibility for performance and participatory art are honoured by the Dia Art Foundation, which promotes a major long-term survey exhibition, with sculptures and room-sized installations from 1969 to 2020, associated with a programme of performance activations and an author book that, for the first time, will bring together Nengudi's drawings, photographs, prints, poems, performance instructions, and other writings. An exhibition not to be missed, at Dia Beacon, opening on 17 February.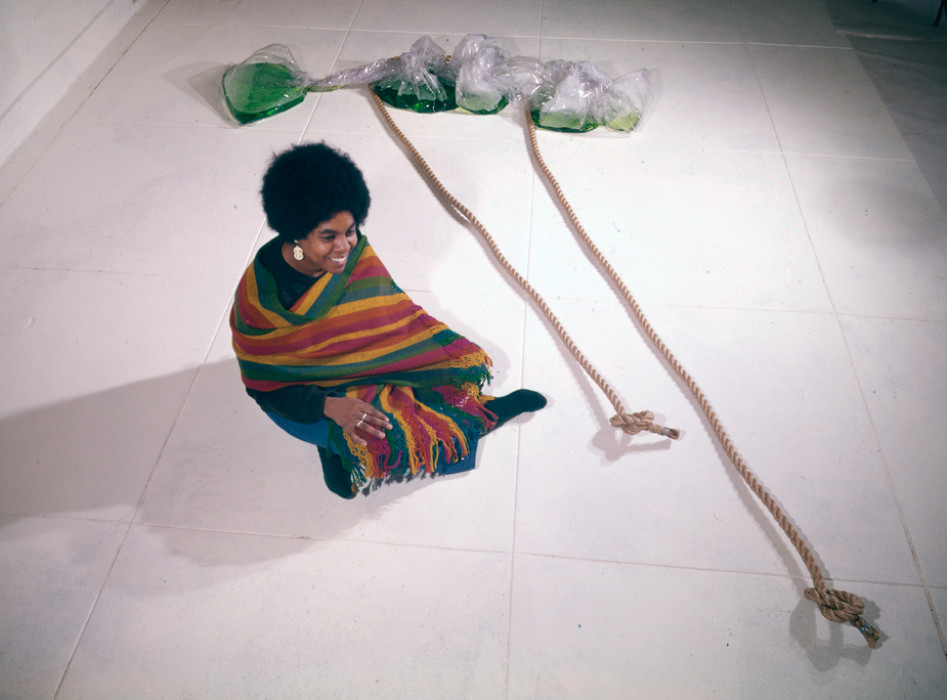 Senga Nengudi, ca. 1970 with "Water Composition (green)" (1969-1970). Photo Frank J. Thomas © Frank J. Thomas Archive
3. "Sonia Boyce: Feeling Her Way" at Turner Contemporary 
Sonia Boyce's "Feeling Her Way" brought to the British Pavilion the Golden Lion Award for best national participation at Venice Biennale 2022. For those who have not visited the outstanding exhibition in the floating city, the show is on display for the first time in the UK, housed by Turner Contemporary, from 4 February until 8 May. Featuring Jacqui Dankworth, Poppy Ajudha, Sofia Jernberg, Tanita Tikaram, and composer Errollyn Wallen, the artist proposes that these intergenerational musicians play with their voices in a session of improvised expression. An instrument originating in the body, and a mark of presence and singularity, the voice is also a term that we use to represent our own subjectivity, agency, will, the right to be part of something — it is no coincidence that voice has been so widely addressed within gender, feminist and decolonial studies. By documenting a kind of history of Black British female singers in visual arts and sound, Boyce confronts us with the weight of a centuries-long history of suffering, oppression and silencing of women, inviting us to recognise the inequality in the value assigned to different voices, and to find ways to continue to resist.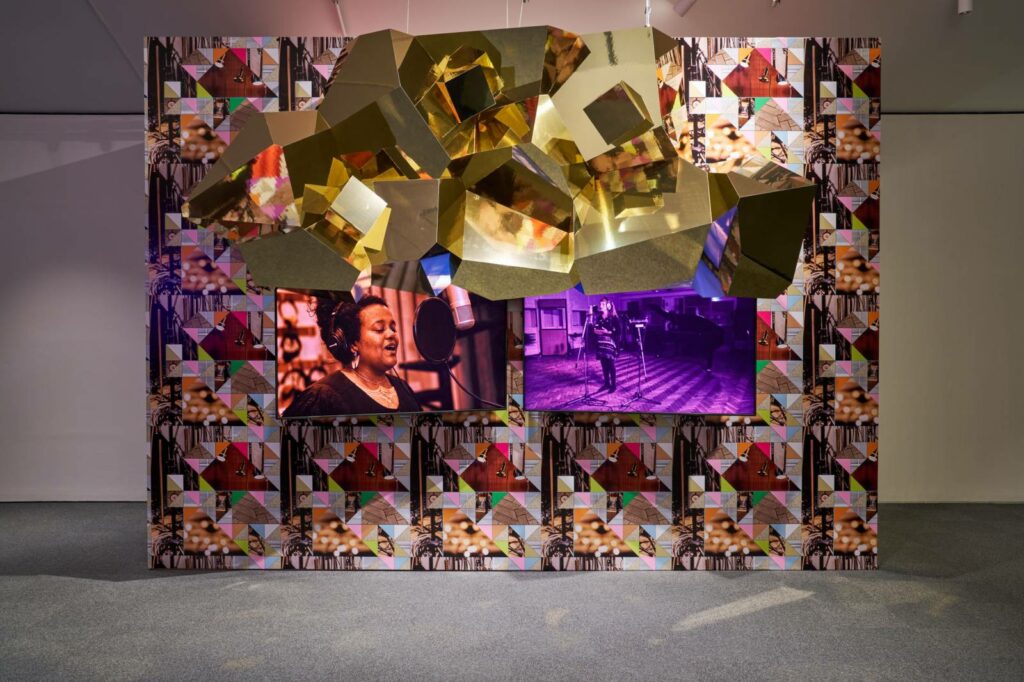 Sonia Boyce: "Feeling Her Way", installation view. © Sonia Boyce. All rights reserved, DACS 2023. Courtesy Turner Contemporary. Photo: Reece Straw.
4. "A World in Common: Contemporary African Photography" at Tate Modern
Highlighted as one of the 10 most thrilling photography exhibitions this year by Dazed, "A World in Common: Contemporary African Photography" promises to bring to Tate Modern, this summer, diverse geographies, traditions and dreams, by artists who reimagine the past, present and future of the African territory and the world. Led through thematic rooms — which privilege the heterogeneity of stories more than the conventional chronological History —, a journey through the plural spiritualities, utopias and landscapes that shape and cross the borders of Africa leads us to rediscover the potential of photography, video and archive in claiming old and new narratives, moving beyond the common assumptions about this enormous "continent-concept" and even about the art forms produced there. A show with the stamp of British-Ghanaian Osei Bonsu, curator of International Art at the institution and author of the recently launched book "African Art Now", to be seen from 6 July 2023 to 14 January 2024.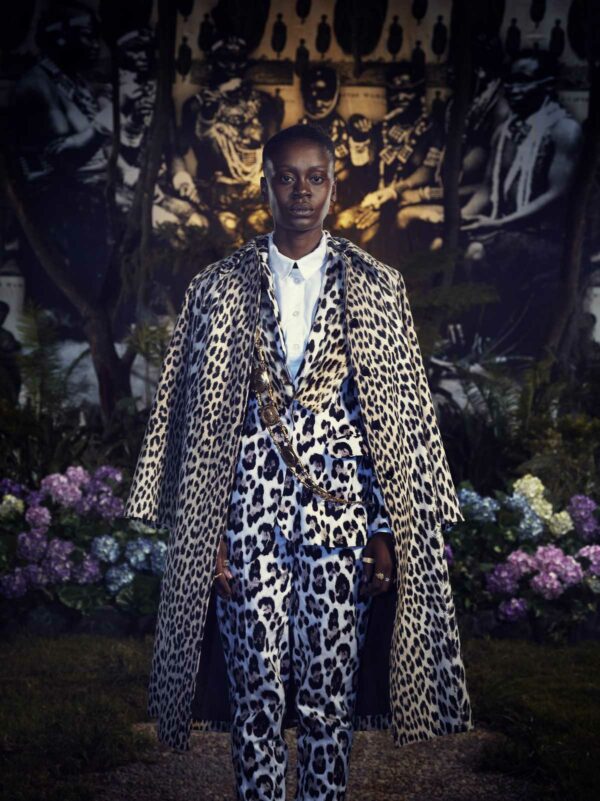 "We Live in Silence IV" (2017) by Kudzanai Chiurai. Courtesy the Artist and Goodman Gallery.
5. "The Culture: Hip Hop and Contemporary Art in the 21st Century" at Baltimore Museum of Art
Since its birth in the 1970s, hip hop has become a worldwide sensation, unfolding a profound transformation on art and culture. With unstoppable impacts on music, fashion, technology, performing and visual arts, hip hop permeates different spaces of daily life, may they be institutional ones or not. Featuring 70 artworks by both established and up-and-coming artists, designers, streetwear legends, and musicians, "The Culture: Hip Hop and Contemporary Art in the 21st Century", on view at the Baltimore Museum of Art from 5 April to 16 July, takes a close look on the importance of hip hop for the transgression of power structures, for tearing the boundaries of cultural norms, and fighting against systematic political and social oppressions. The exhibition has a heavyweight advisory committee, which ensures an insider perspective, attentive to the multiplicity of expressions and names that have built and are still building hip hop: Martha Diaz, Founder and President of the Hip-Hop Education Center; Wendel Patrick, professor at the Peabody Music Conservatory at Johns Hopkins University; Tef Poe, rapper and activist; Hélio Menezes, curator of the São Paulo Biennial, mentioned above, anthropologist and specialist in Afro-Atlantic Histories, are a few of the show's contributors.
"Bruja Cybernetica" (2022) by Caitlin Cherry. Courtesy of the artist and The Hole (2022).
6. Sharjah Biennial 15, "Thinking Historically in the Present"
Sharjah Biennial has already begun to spread across the emirate. This year, under the motto "Thinking Historically in the Present", the event's 15th edition draws on the practical-conceptual legacy of late Okwui Enwezor to think about the ways that a "postcolonial constellation" can be realised socially, politically, sensitively and artistically. Curated by Sharjah Art Foundation director Hoor Al Qasimi, the biennale gathers over 300 works, by more than 150 artists and collectives from 70 countries, whose practices have consistently critiqued monolithic and totalising perspectives on identity, tradition, race, gender, body and imagination. Broadening and complexifying the conversation around a postcolonial and diverse subjectivity within and beyond the arts — and thus continuing the efforts of the provocative and forward-thinking Nigerian curator —, Sharjah Biennial 15 presents us new commissions by African or Afrodiasporic John Akomfrah, Maria Magdalena Campos-Pons, Berni Searle, Barbara Walker, in addition to works by transdisciplinary Gabrielle Goliath, Afrofuturist Wangechi Mutu and Turner Prize 2022 winner Veronica Ryan, with a site-specific project. Collective healing, memory, mourning, ecology and much more to explore from 7 February until 11 June, with free entry.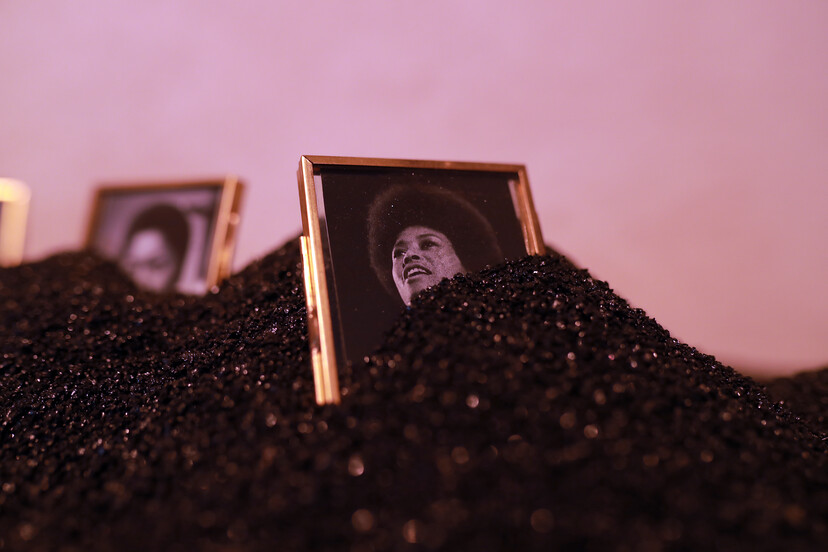 "By Way of Revolution" (2019-23) (detail), by Helina Metaferia. Image courtesy of Sharjah Art Foundation.
7. "Wangechi Mutu: Intertwined" at New Museum
And speaking of Wangechi Mutu, the visual artist will receive probably one of her largest survey exhibitions, at the New Museum in New York, March this year. With an aesthetic that crosses speculative fiction, the history of science and feminist movements (and motions), the Kenyan-born American creator has been developing a decades-long work that dwells on the effects of colonialism, colour and gender stereotypes, and the power of African-rooted cultural expressions. Her anti-racist and anti-patriarchal world, which reverses the imageries of violence, was born in the form of complex and vibrant collages and today takes on sculptural, installation, performance and even audiovisual contours. In "Intertwined", the variety of this prolific and profound body of work covers the entire museum, occupying the three main floors and the building's glass façade, with a new commissioned piece. An unmissable visit, on show from 2 March to 4 June.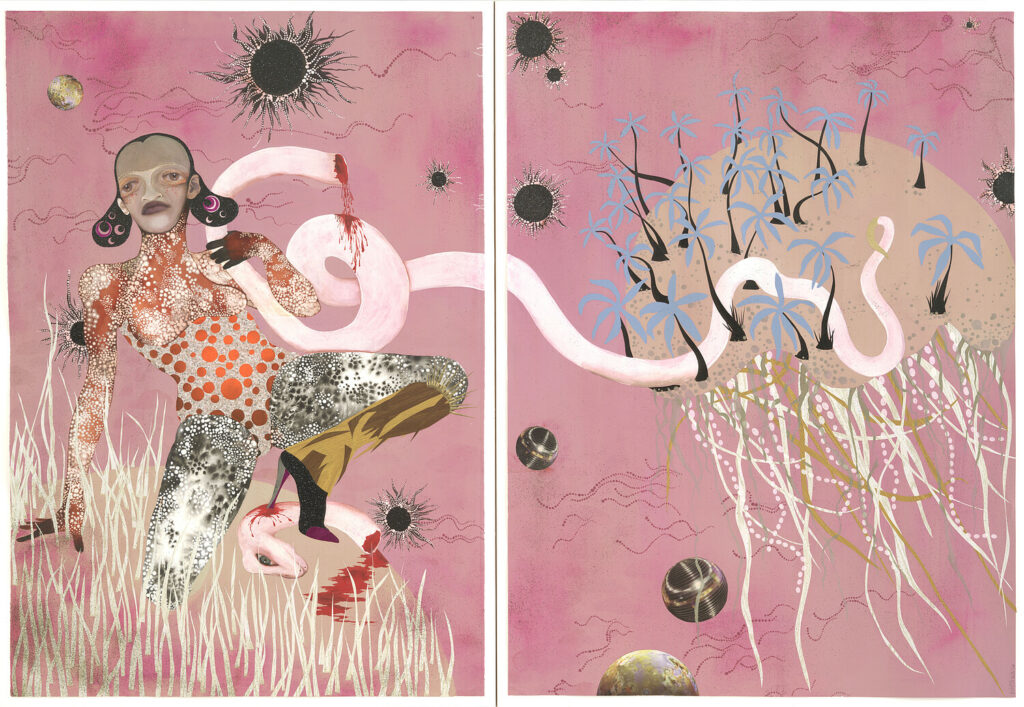 "Yo Mama" (2003), by Wangechi Mutu. The Museum of Modern Art, New York. The Judith Rothschild Foundation Contemporary Drawings Collection Gift, 2005. Courtesy of the artist and Vielmetter Los Angeles. Photo: Robert Edemeyer.
8. Liverpool Biennial 2023, "uMoya: the Sacred Return of Lost Things"
The curatorial proposal for this year's Liverpool Biennial is extremely delicate and thought-provoking. Conceived by Khanyisile Mbongwa, Cape Town-based independent curator, award-winning artist and sociologist, the next edition of the UK's largest contemporary visual arts festival revives the absences and invisibilities created within one of the key cities in the European trade of enslaved people. The wind (meaning "uMoya" in isiZulu) on Liverpool's docks — which allows, perhaps, a retracing of the routes of violence that traverse the country and brings a breath of the past back to the skin — is the guide to a biennale that deals with the perpetual loss of black communities. Aware that "deep down, revolutions without spirituality are the exception", to quote Foucault, Mbongwa conjures a "return to self that aligns the celestial and ancestral, […] a return where all that is lost or stolen is acknowledged, remembered, accounted for, ignited and returned", in her own words. With just over 30 artists confirmed so far, at least a third from the African continent, the event features, for example, the post-archival works of Julien Creuzet, the feminine cartographies and wisdoms of Charmaine Watkiss, the solid-liquid abstraction of Torkwase Dyson and the striking animism of Katy'taya Catitu Tayassu. Free admission, from 10 June to 17 September.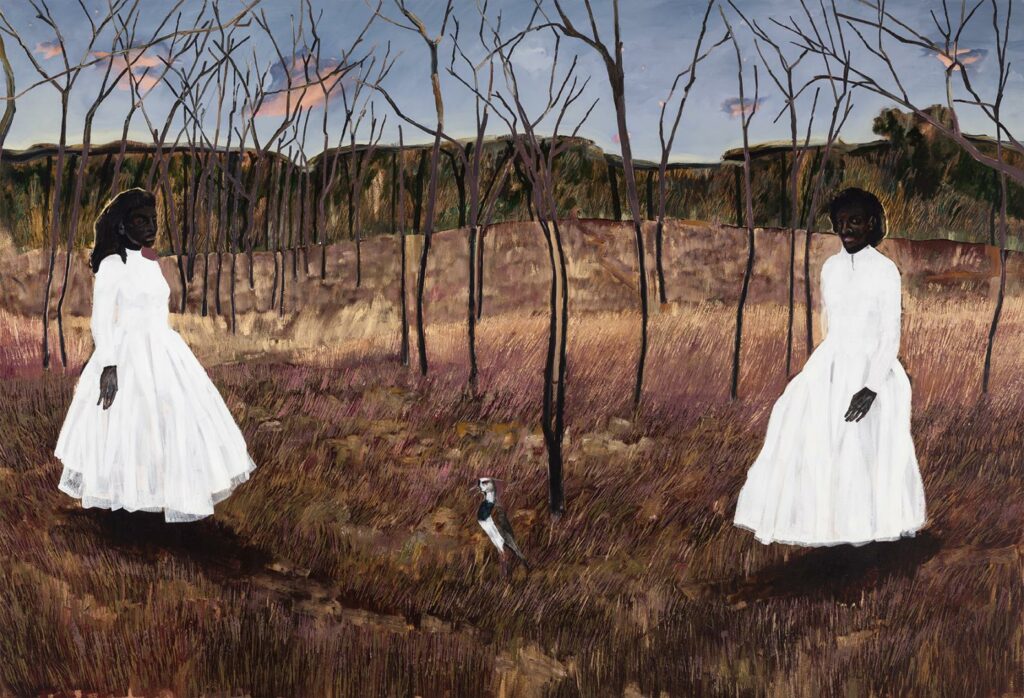 "At the gates of Paradise" (2020) by Antonio Obá, featured in the Liverpool Biennial 2023.
9. "When We See Us: A Century of Black Figuration in Painting" at Zeitz MOCAA
Zeitz MOCAA's bold exhibition inaugurated last year and, luckily, can be seen until 3 September, 2023. "When We See Us: A Century of Black Figuration in Paiting" is structured around six themes, including Sensuality, Joy, and Freedom, and explores Black self-representation efforts from pan-African and pan-diasporic perspectives. Alongside works from prominent black intellectuals, writers, and poets of the present day, the show emphasises the connections between artists and their creations across diverse geographical, generational, and ideological boundaries – an approach much aligned with Artkofa's mission and understanding of the art contemporarily produced in, from or about the African continent. A truly must-see exhibition, featuring works from some of the most interesting and challenging artists today, such as Zandile Tshabalala, Njideka Akunyili Crosby, Ben Enwonwu, Lynette Yiadom-Boakye, Amy Sherald, and Joy Labinjo, some of them put in dialogue and seen together for the first time.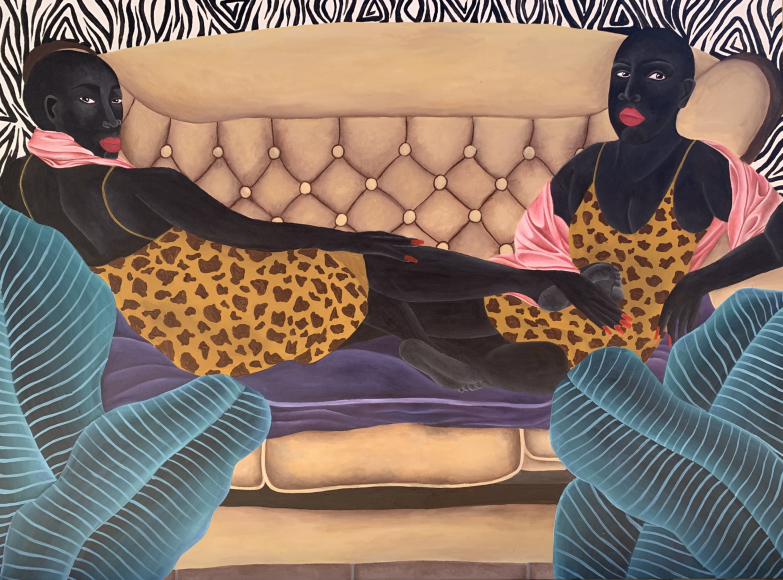 "Two Reclining Women" (2020), by Zandile Tshabalala.
10. Carrie Mae Weems's survey exhibition at Barbican Centre
In the summer of 2023, Barbican presents Carrie Mae Weems' first solo exhibition in a UK institution, and the largest presentation of her body of work in Europe to date. Regarded as a highly impactful contemporary American artist, Carrie has delved into a diverse range of themes, including family ties, cultural identity, gender inequality, socioeconomic status, political structures, and the ramifications of power. With a steadfast commitment to both literally and figuratively insert herself into the image, the multidisciplinary artist has been a constant voice in contemporary discourse for the past three decades, creating a rich and intricate body of work that encompasses photography, text, fabric, audio recordings, digital imagery, performance, installations, and video. Among the various pieces featured in Barbican's retrospective, the public can rediscover the emblematical "Kitchen Table Series" (1990), consisting of photographs that depicted the stereotypes of African-American lives. These records of her personal experiences served as meditations on the domestic arena as a site of struggle, while also exploring themes such as monogamy, gender discrimination, and sisterhood. The exhibition is on show from 21 June to 3 September.
"Untitled (Woman and Daughter with Make Up)", from "Kitchen Table Series" (1990), by Carrie Mae Weems. © Carrie Mae Weems. Courtesy of the artist; Jack Shainman Gallery, New York; and Galerie Barbara Thumm, Berlin.
Bonus! Zanele Muholi's first French retrospective at Maison Européenne de la Photographie
Zanele Muholi's portraits are a testament to the power of art as a tool for social change and activism. Known for their forceful, celebratory photographs and documentation of the LGBTQ+ Black community, the South African artist is the co-founder of the Forum for the Empowerment of Women and founder of Inkanyiso, a forum for queer and visual media, and an honorary professor at the University of the Arts Bremen, Germany. Muholi has exhibited their work in countless major art institutions and events worldwide and has received numerous accolades, including the International Center of Photography's Infinity Award 2016; France's Chevalier de l'Ordre des Arts et des Lettres and the Mbokodo Award in the visual arts category, both in 2017; a fellowship from the Royal Photographic Society, UK, in 2018; and, in 2019, the Lucie Humanitarian Award and the Rees Visionary Award from Amref Health Africa. Now, in 2023, Muholi finally gets their first retrospective exhibition in France, becoming the first Black non-binary person to be represented in Maison Européenne de la Photographie with a solo survey. A beautiful and impactful showcase not to be missed, until 21 May.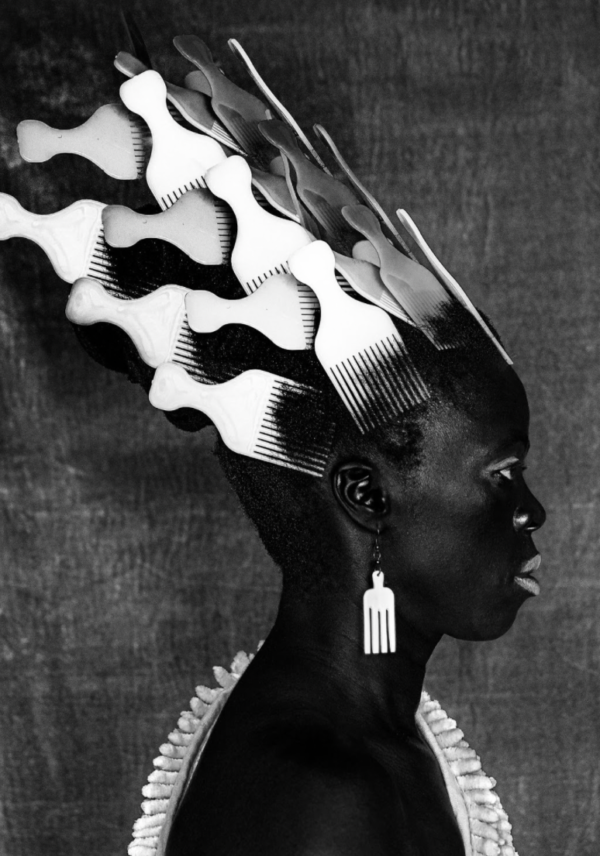 "Qiniso, The Sails, Durban" (2019), by Zanele Muholi. Courtesy of the Artist and Stevenson, Cape Town/Johannesburg and Yancey Richardson, New York © Zanele Muholi.