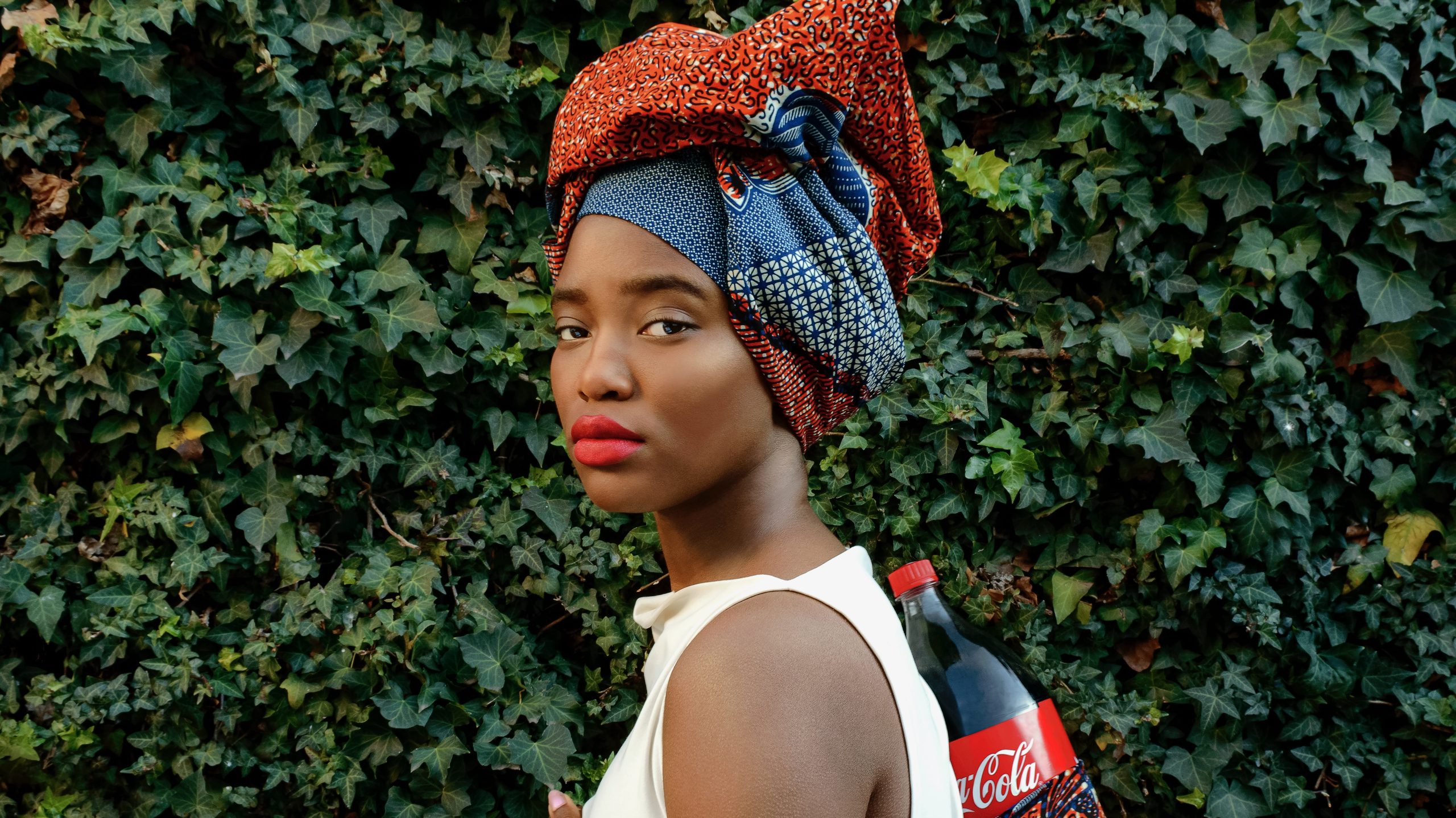 15 top African artists under 40 years old, from established to on-the-rise creators
Artkofa's mission, besides serving as a platform for research and knowledge around African art histories, is to become a portal of excellence for contemporary creation, supporting and investing in artists in activity, today and in the future. For those who are now diving into this vast universe, we have compiled a set of 15 trailblazing, exceptional African-born young creators under the age of 40, in a combination between names whose careers are already well consolidated in the market and emerging talents recently discovered by galleries and art fairs. In no particular order, we hope that this short list will offer glimpses of the artistic richness and quality that is bubbling away on the continent and in the African Diaspora — and that definitely deserve our closest attention.
Ibrahim Mahama
In about one decade, Ghanaian contemporary artist Ibrahim Mahama has seen his works and large-scale installations exhibited in Hong Kong, the United Kingdom, Canada, the United States, Germany, Italy, Israel, Greece, part of major international art events, including Documenta 14, the 2015 Venice Biennale, and the 2019 Sharjah Biennial. Crisis, failure, death and scarcity are the raw material and the starting point for his works, which reveal the marks imprinted by the processes and movements of globalisation, commodity trade and migrations. Using textiles and other found materials, the artist stitches together the routes of labour exploitation that, although invisible to most of the world, constitute the embodied stories of many African citizens and workers. Not long ago, Mahama — known for his deeply socially and ecologically engaged artist practice — bought several Ghana's colonial-era trains and plans to turn them into sculptures and educational spaces for Tamale's community, resignifying the use of those abandoned spaces, symbols of the terrible material and spiritual assault suffered by the continent. With thought-provoking ideas and an innovative use of different media, Mahama's works have been acquired by major museums and private collections around the world, cementing his place as one of the most important and changemaker African artists of his generation.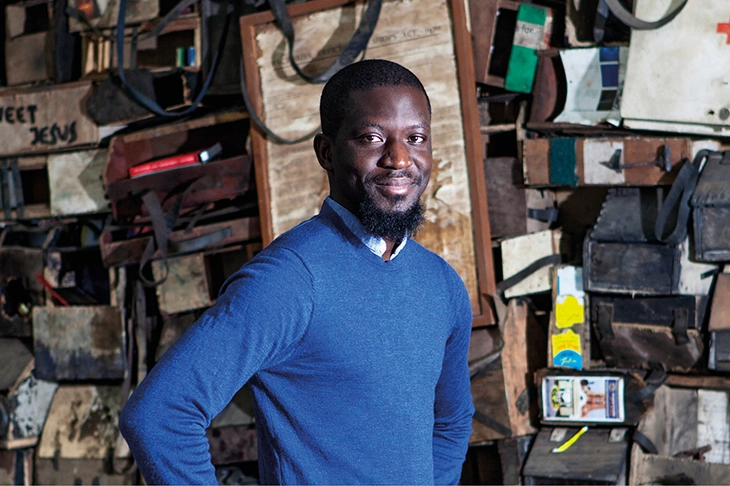 © White Cube George Darrell
Jody Paulsen
One word to describe Jody Paulsen's work: maximalism. Through intricately detailed, vibrant mixed-media collages and embroideries, the artist explores themes of identity, sexuality and popular culture. Based in Cape Town, South Africa, he draws on traditional African references in tapestry and sculpture to create a new, eclectic and slightly chaotic iconography. Without prioritising any specific information or fragment, Paulsen challenges us to dive into his lush paradise of colours, graphics and patterns with humour and without inhibitions, demonstrating that play, pleasure and sensuality are also political tools of resistance and rebellion. By assuming his mixed cultural heritage and queerness, he creates pieces that are at once deeply personal and reflective of the broader socio-political landscape of the world around us. Already accumulating an extensive list of participation in relevant exhibitions, the importance of his work has been recognised by numerous major collections, including Zeitz MOCAA, Matthais & Gervanne Leridon Collection, and Sovereign Art Foundation.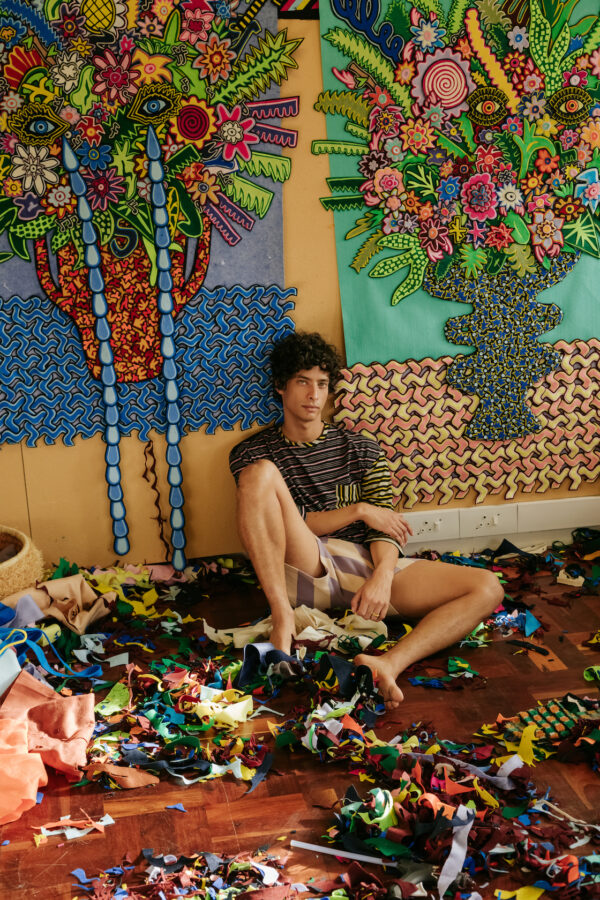 Cyrus Kabiru
The reuse of what is commonly referred to as "waste" is in the DNA of many creations from the global South, long before this issue was put on the agenda by Northern countries. Raised amidst poverty in one of Naibori's largest slums, self-taught Kenyan artist Cyrus Kabiru is one of these emblematic cases where artistic practice and sustainable practice are one and the same. Internationally known for his collection of eyewear created from found and recycled materials, Karibu attests to the power of a sensible, attentive gaze in transforming items into other forms never before imagined: buttons, hoops, sieves, cassette tapes and even earrings are completely transformed, giving life to wearable sculptures worthy of futuristic scenarios. The artist has participated in a series of group exhibitions in major art institutions around the world, as well as receiving solo shows in Kenya, the Netherlands, South Africa and Dubai. He was also selected for the Quartz Africa Innovators 2016 list, and included in prominent collections, such as the Saatchi & Abel Collection, and The Studio Museum in Harlem (New York, US).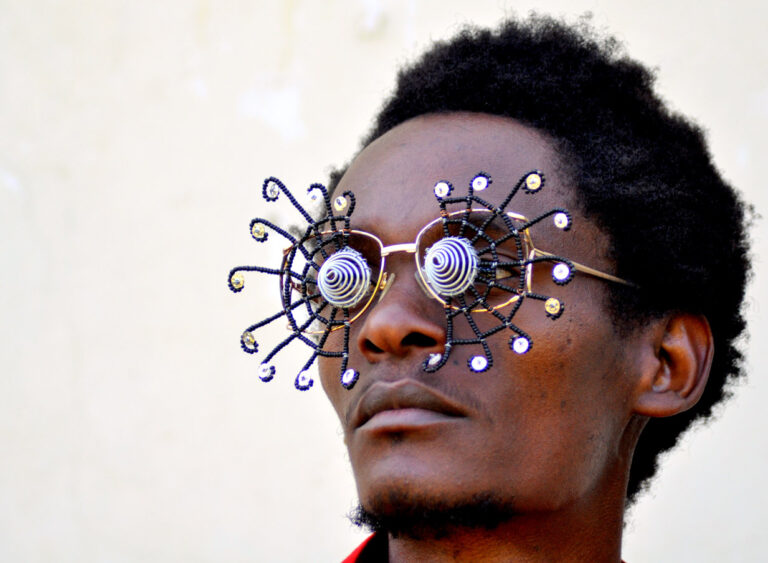 Serge Attukwei Clottey 
Another exemplary case of an artistic practice that investigates issues related to waste, consumer culture, and African identity is Serge Attukkwei Clottey, whose body of work crosses the domains of installation, performance, photography and sculpture. The Ghanaian artist is the author of the concept and project "Afrogallonism", a commentary on cultural habits on the continent and their ecological implications. His work poetically resignifies the use of the yellow gallon containers, brought to Ghana initially as oil jerry cans and later transformed into water storage materials, an object present in almost every house in his community, which suffered from water scarcity. Over time, these jerry cans were improperly discarded, and became a true sanitary problem for the country. Through cutting, drilling, stitching, melting or simply displacing found materials, Clottey's sculptural installations are bold assemblages that serve as a medium for exploring inquiries related to form and history, by accompanying the agency and routes of an object made from Western plastic, imported to nations of the Global South in an irresponsible way, and then restored as a prestigious art piece in the Western art market. A strong advocate of creative practice as activism, the artist founded Ghana's GoLokal performance collective, and received the distinction of Honorary Doctorate of Arts from the University of Brighton.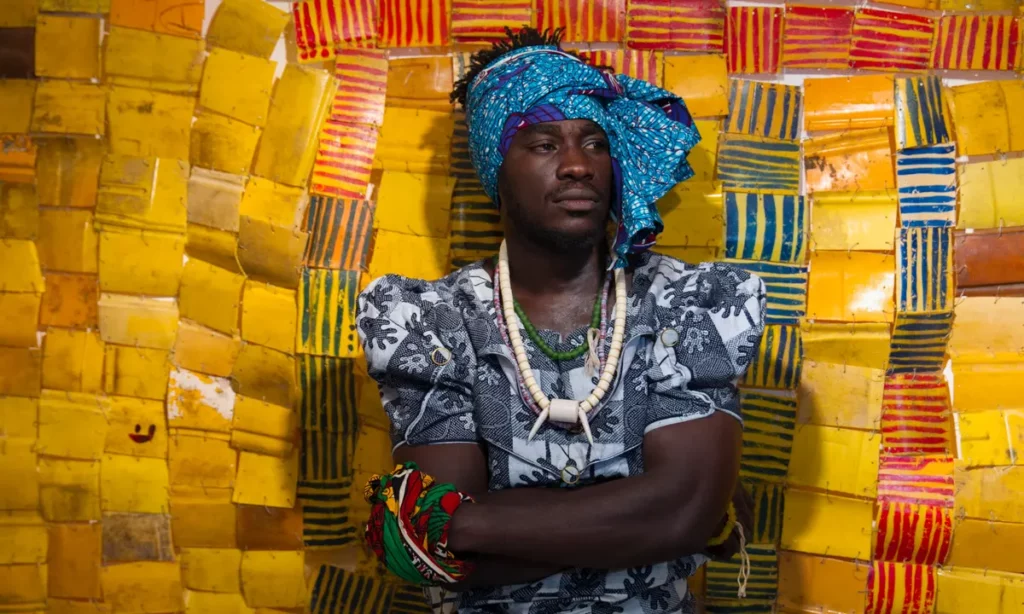 Serge Attukwei Clottey and GoLokal perform "My Mother's Wardrobe" at Gallery 1957, Accra, Ghana. © Nii Odzenma/Courtesy the artist and Gallery 1957
Moussa Traoré 
There is something extremely uncanny and spiritual about Moussa Traoré's work. His figures that don't allow themselves to be defined between the human, the animalistic and the alien, constructed in an expressive applying process of paint that lets it drip and spill, leap to the viewer's eyes as images that capture a somewhat primitive, impulsive and raw essence of the world. Highlighted as one of 15 emerging African creatives by Artsy, Traoré develops his practice alongside L'atelier Badialan 1 (AB1), an artist collective founded in Bamako, Mali. In 2019, the artist was featured in a three-person exhibition at Galerie Atiss Dakar, in Senegal, and, the next year, in the gallery's virtual presentation for the 1-54 Contemporary African Art Fair, New York.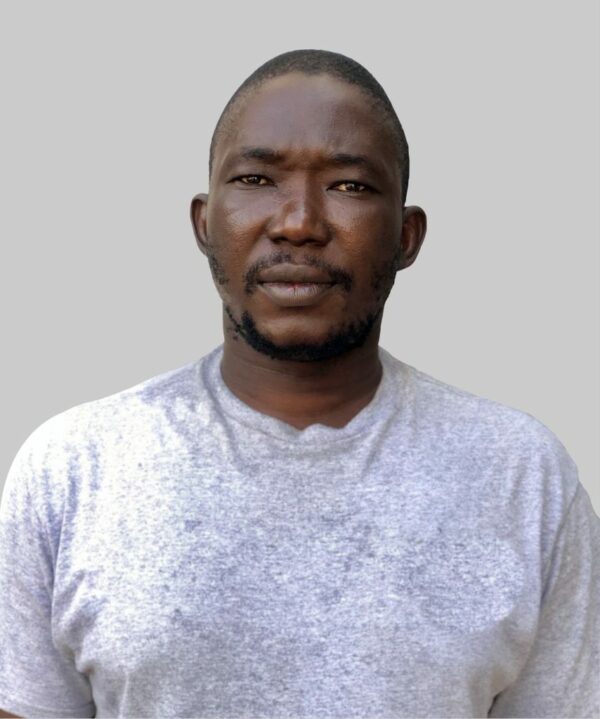 Athi-Patra Ruga 
Athi Patra Ruga is a South African artist who employs various mediums, including performances, photographs, videos, textile works, and prints, to explore the concepts of utopia and dystopia in a post-apartheid South Africa. His works scrutinise the body of the "born-free" generation through themes such as sexuality and AIDS, and explores queer culture as a potent space of resistance, challenging the strict binary division of gender and race that was once the foundation of the Apartheid power structure. Ruga uses fashion and body language in relation to urban spaces to highlight the tension between legal and individual freedoms, uncovering the historical suppression of black voices, bodies, and dissident identities. Through a lens of myth and storytelling, Ruga advocates for justice for his ancestors and promotes the need for radical transformation in the future. He rejects the somewhat simplistic idea of South Africa as a "Rainbow Nation" – a term coined by Archbishop Desmond Tutu after the country's first fully democratic election in 1994 –, and instead employs colour to examine the impossible or unrealized attempts of forgiveness, reconciliation, and redemption.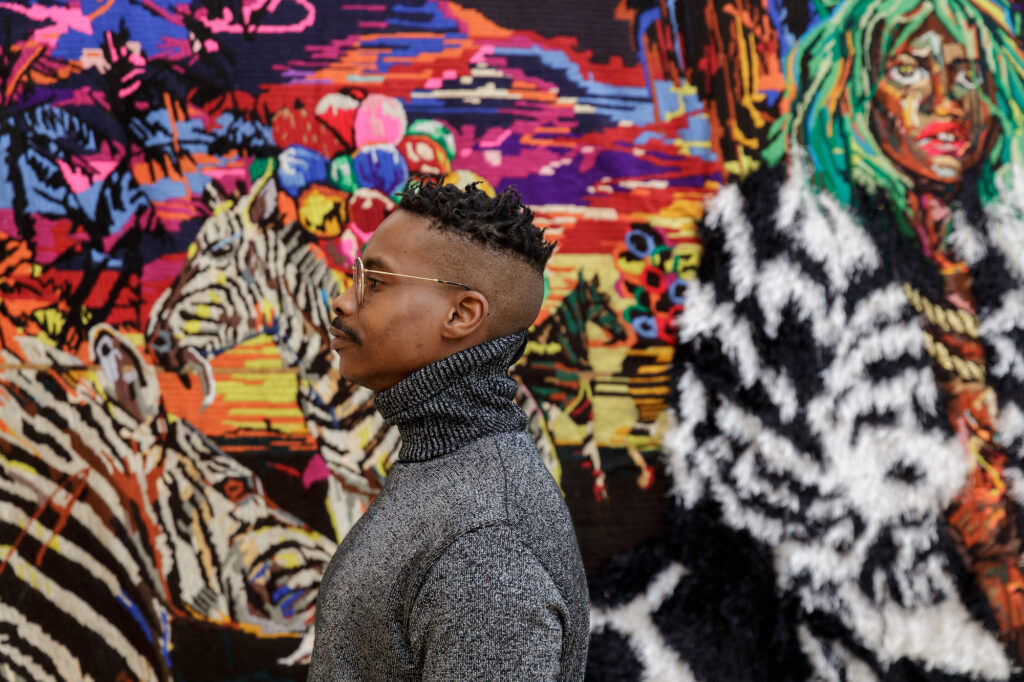 © Tim Bowditch 2018. Courtesy Wonderland Magazine
Nolan Oswald Dennis 
In the multimedia work of Nolan Oswald Deniss, we get to discover and explore what they describe as a "black consciousness of the spatial, material and metaphysical conditions for decolonisation". Concerned with the hidden (and often violent) structures that predetermine the limits of our social and political imagination – universally, but also particularly in the history of the African continent –, their work expands the most common definitions of ecology, technology and intelligence to read technological systems alongside spiritual systems, combining political and science fiction to construct a meaningful and free relationship with the non-human, based on solidarity, decentralisation and cognitive diversity. Their work has been featured in exhibitions at the Goodman Gallery (Johannesburg, Cape Town, London), Palais de Tokyo (Paris), MACBA (Barcelona), AutoItalia SouthEast (London), CAN (Neuchatel), the Young Congo Biennale (Kinshasa), among others, and, in June this year, they will participate in the Liverpool Biennale "uMoya: The Sacred Return of Lost Things" , one of 10 art events Artkofa has highlighted as a must-see in 2023.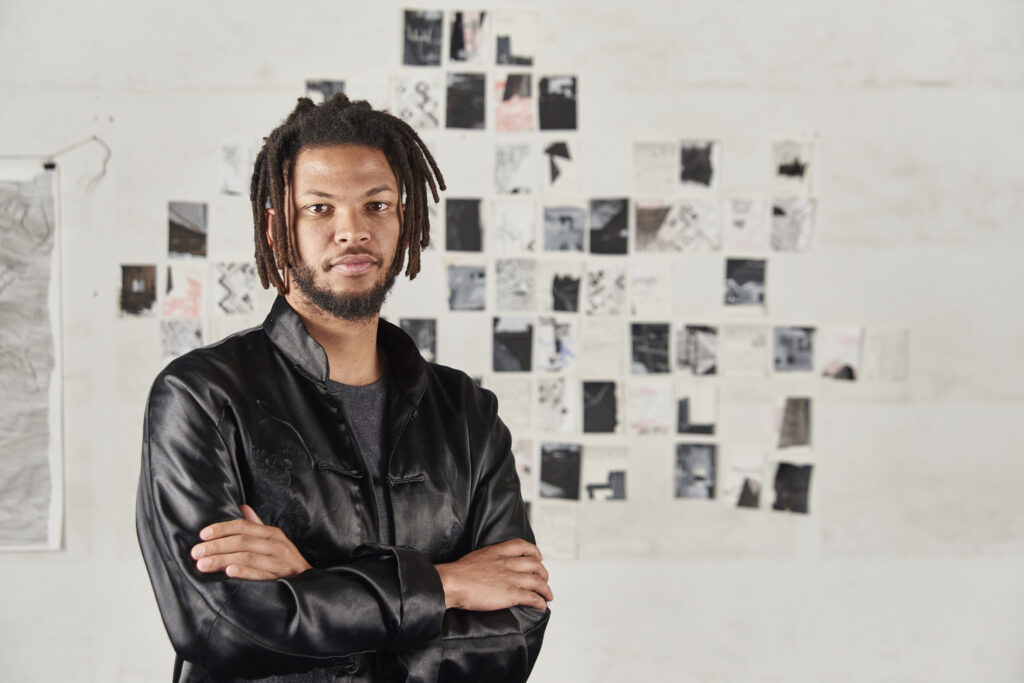 Ameh Egwuh 
Drawing inspiration from the scarification techniques of ancient Ife art, textile designs and indigenous pictograms and aphorisms of Adinkra and Nsibidi, Ameh Egwuh's unique use of lines, shapes and textures transport us to pre-colonial art traditions while referencing contemporary art history. With a vast, eclectic visual vocabulary, the Nigerian artist creates vibrant and surreal paintings that present us with fantasy images of transcendence, often exploring themes of mythology and spirituality as a means to investigate human responsibility and mortality. Egwuh was featured in the "Generation Y" exhibition organised by Retro Africa, in 2018, and was selected to be one of Rele Arts Foundation's Young Contemporaries.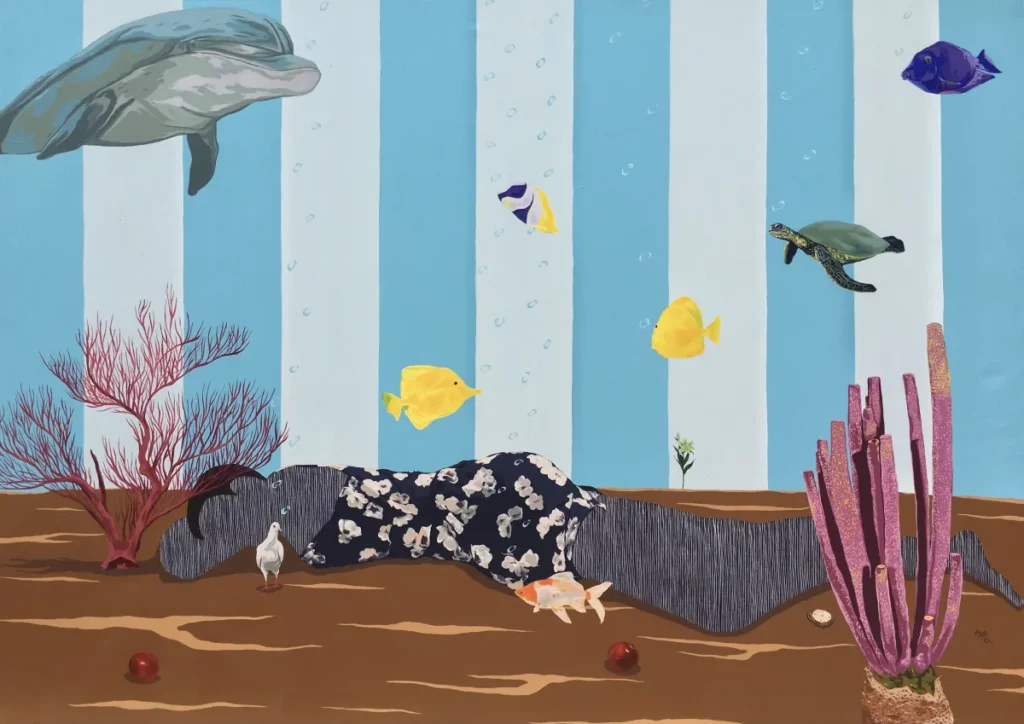 "Infinite Rest (II)" (2021), by Ameh Edwuh
Lady Skollie
Winner of the 2022 Standard Bank Young Artist Award for Visual Arts, Lady Skollie is a captivating and enigmatic South African artist, whose work is a vibrant and provocative exploration of themes such as sexuality, power, and identity. Born Laura Windvogel, she adopted her artistic name in reference to a derogatory Afrikaans term for person of colour – a precise use of humour, satire, and irony is one of the main traits she is known for, and that adds an additional layer of complexity to her work, inviting the viewer to engage with it on multiple levels. Through her bold use of colours, intricate patterns, and layered symbolism, Lady Skollie creates complex and multi-dimensional pieces deeply rooted in her personal experience as a young black woman, drawing inspiration from a range of sources, including African mythology, pop culture, and feminist theory.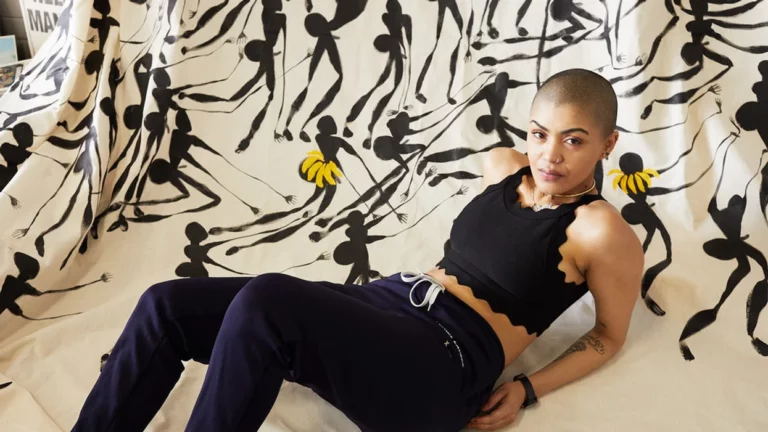 Amoako Boafo 
Born in Accra, Ghana, Amoako Boafo is a red-hot star in the contemporary art world, with a distinctive style that has garnered widespread attention and critical acclaim. Known for his bold and expressive portraits of black subjects, combined with vibrant, thick, gestural brushstrokes, Boafo's work challenges traditional notions of beauty and representation, exploring themes of identity, race, and belonging. His solo exhibitions, such as "I See Me" and "Between the Poles," have been met with great success and have solidified his position as one of the most important and leading figures in African contemporary art. In February 2020, one of his pieces was auctioned at Phillips in London for $881,432: the value exceeded the estimate by more than ten times and by more than 3,000% what the seller paid for it less than a year earlier. In a meteoric rise — quite literally, since the artist's "Suborbital Triptych" (2021) headed to the stars with Jeff Bezos's rocket, built by his private aerospace manufacturer, Blue Origin —, which also earned him a partnership with luxury fashion brand Dior, Boafo's work has been widely acquired for private and public collections, such as the Leopold Museum (Vienna), Los Angeles County Museum of art (Los Angeles), and Solomon R. Guggenheim Museum (New York).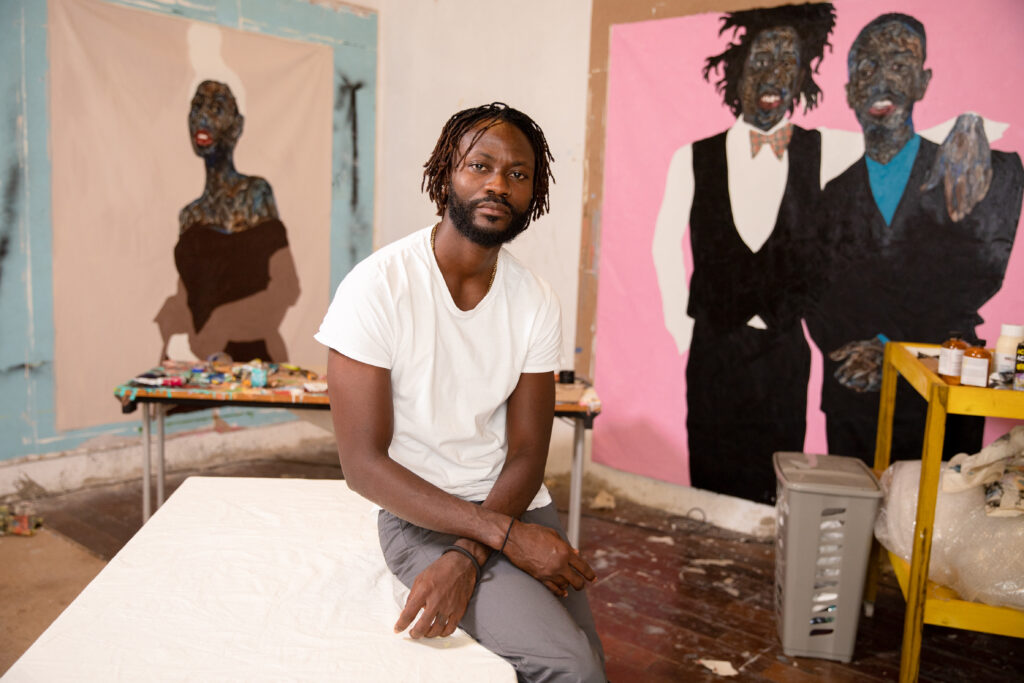 Tony Gum
"Tony Gum might be the coolest girl in Cape Town", anointed Vogue in 2015. "An artist in learning, a filmmaker in training and a storyteller in grooming", as she describes herself, Tony Gum blends a variety of mediums, from digital film and graphic design to more traditional techniques like painting and still life composition, to capture the nuances of our shared human experience. Starting from her cultural heritage as a South African Xhosa woman, and aware of the lack of representation of African women in popular culture, she offers refreshing perspectives on the many facets of femininity and womanhood, creating a powerful and empowering space for women to explore and express their own identities. With a young yet very maturely-driven career, Tony was the winner of the 2017 Miami Beach Pulse Prize at 22 years old.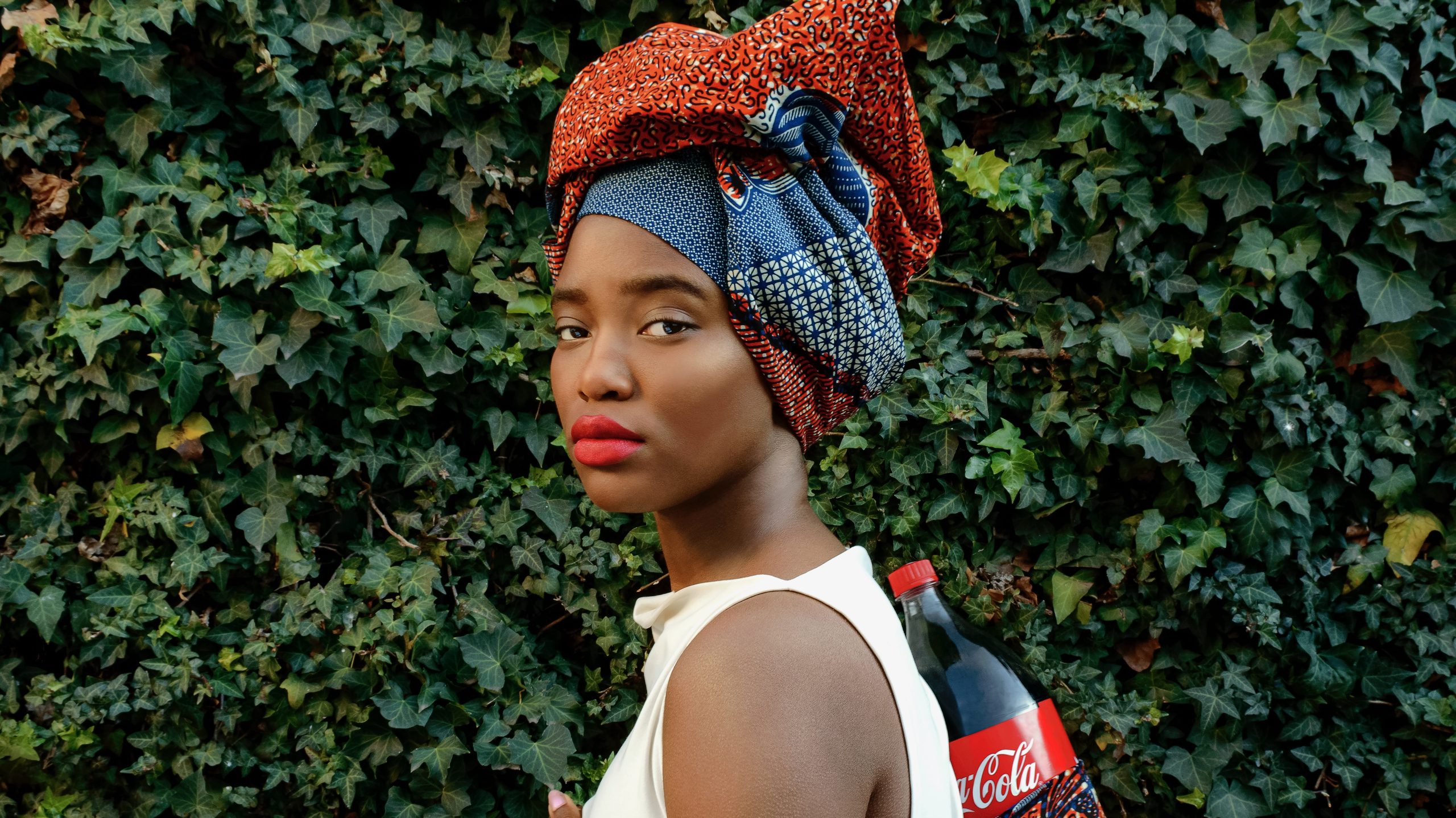 "Mother" (2015), from "Black Coca Cola" Series, by Tony Gum
Eddy Kamuanga Ilunga
With his first solo exhibition in 2016, at the October Gallery, in London, Eddy Kamuanga Ilunga hasn't stopped gaining international projection since then. In the same year, the Congolese artist was selected for the Armory Show, in New York, and his work again received special attention, with a highlight in the Financial Times newspaper, which chose one of his works for the cover of the supplement it dedicated to the event and included him in the list of the best artists in the art fair. One of the most instigating aspects of his creation, and one that has also been underlined by critics, is the representation of the conflict that crosses the Mangbetu, an ethnic group in the Democratic Republic of Congo, which is increasingly culturally polarised between its traditions and the fascination with technological modernity (in this regard, it should be noted that the Democratic Republic of Congo is one of the world's major exporters of coltan, a fundamental raw material in the manufacture of mobile phone components). Today, his intricate, mixed-media paintings belong in the permanent collections of Zeitz MOCAA in Cape Town and the Pizzuti Collection of the Columbus Museum of Art, and regularly sell for five figures on the secondary market.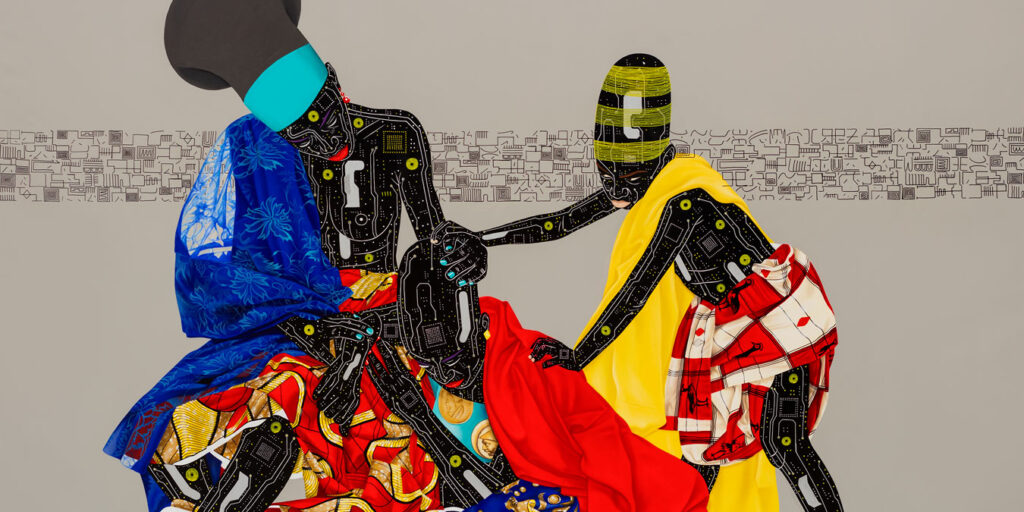 Detail of "Oubliez le passé et vous perdez les deux yeux" (2016), by Eddy Kamuanga Ilunga
Amanda Shingirai Mushate 
Exploring themes of identity and self-discovery, Amanda Shingirai Mushate was a finalist in the Emerging Painting Invitational 2019 when she was only 24 years old. The next year, the Zimbabwean artist was selected to present a solo exhibition as part of "Tomorrows/Today", a project of the Investec Cape Town Art Fair. With a growing international reputation, Mushate creates abstract compositions that place looped lines, vibrant colours and unrecognisable shapes side by side, suggesting the idea of different geographical or temporal paths intersecting. It is in this crossing that the artist seeks to find spaces and realms for new and more abundant personal and collective futures.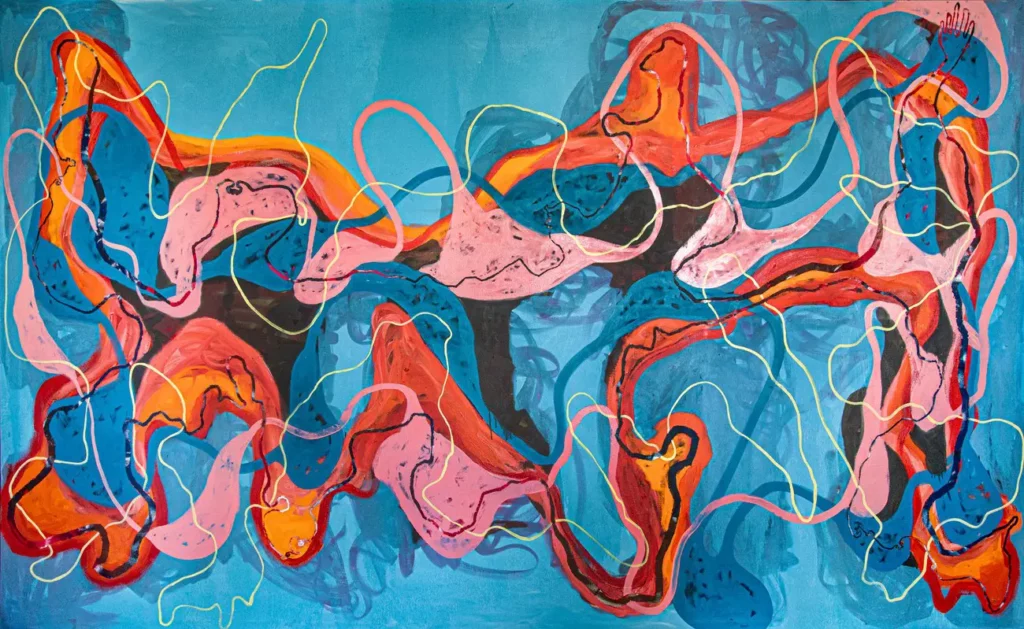 "Muridzi (The owner)" (2022), by Amanda Shingirai Mushate
Yolanda Mazwana 
Based in Johannesburg, Yolanda Mazwana is a self-taught visual artist born in the Eastern Cape of South Africa in 1996. In 2020, she was awarded the second prize for the Emerging Painting Invitational Prize. Navigating between styles that could be identified as abstract expressionism, neo-expressionism and symbolism, Mazwana is interested in researching and representing different mental illnesses and phobias through a critical look on popular culture, relationships and the power of storytelling. With a body of work centred on painting, but open to the intervention of other media, the artist unburdens herself about the vulnerabilities of the mind and how trauma inhabits and affects our bodies, generating individual and ambiguous physical and physiological responses, on the threshold between forgetting and remembering, repressing and healing.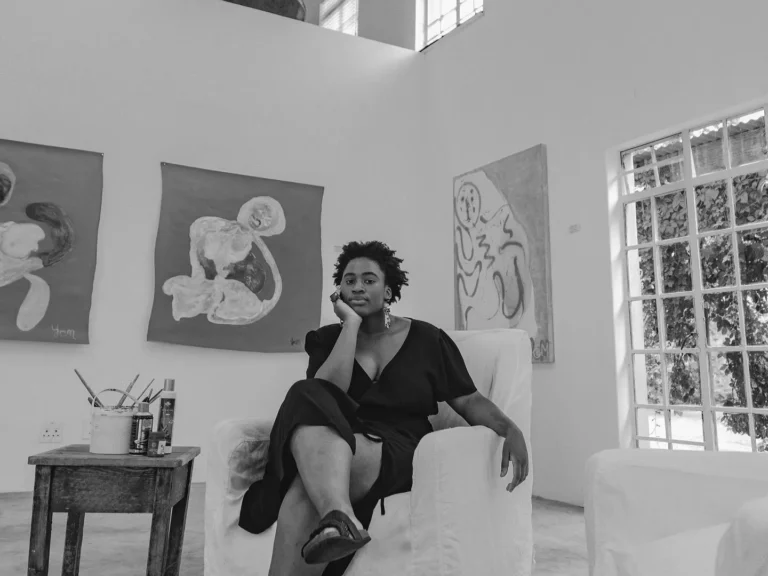 © Yolanda Mazwana Studio. Photo: Botswele Bogotlane
Sungi Mlengeya 
Self-taught Tanzanian painter Sungi Mlengeya lives and works in Kampala, Uganda. Born in 1991, she started working as a full-time artist only in 2018, and her unique minimalist, black and white aesthetic earned her an exponential rise since showing her work in the "Surfaces" exhibition, at Afriart Gallery in Kampala in 2019. In a context where black women are oppressed by the imposition of limits and stereotypes in all spheres, the artist portrays the strength, uniqueness and, above all, the freedom of the female figures around her through the option for striking poses and a white background, full of possibilities. Having been featured at the 1-54 Contemporary African Art Fair 2020, the Investec Cape Town Art Fair, and Latitudes Art Fair 2019, and selected for the Apollo 40 Under 40 Africa and Keep Walking: Africa Top 30 List, Sungi Mlengeya is here to stay.