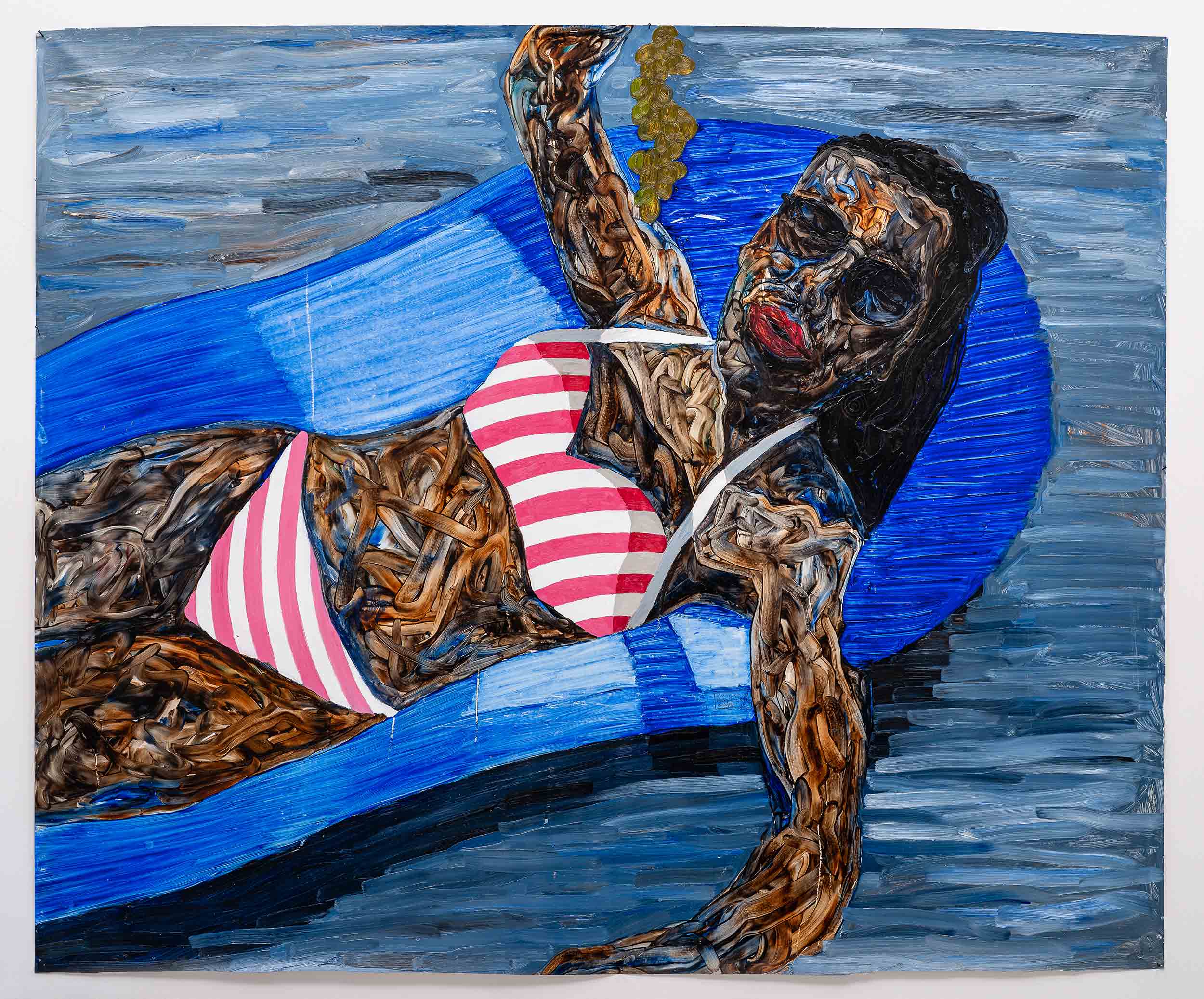 Top 10 contemporary Black Artists who changed the art world
The world of art has always been a dynamic space for self-expression, cultural exploration, and pushing boundaries. In this article, we will delve into the captivating works of 10 living black painters who have left an indelible mark on the art world. These artists not only challenge the conventional norms of art but also delve into profound issues of race, identity, and representation. Let's celebrate their unique contributions and delve into the vibrant tapestry of their artistry.
1. Kerry James Marshall : Reclaiming Representation
Kerry James Marshall's artistry is a testament to the power of representation. His figurative style and use of bold colors confront the historical absence of black figures in art. His "Garden Project Series," featuring large-scale paintings of black figures in idyllic landscapes, boldly questions societal exclusions. In 2016, the Museum of Contemporary Art in Chicago held a retrospective, "Mastery," showcasing over 70 works spanning his career. Marshall's accolades include the prestigious MacArthur Fellowship and the National Medal of the Arts.
In 2018 Kasseem Dean, a.k.a. Swizz Beatz, helped facilitate Sean Combs's purchase of Kerry James Marshall's 1997 painting "Past Times," which shows a black family having a picnic in a scene that recalls Seurat. Combs ended up buying the work for $21.1 million, the most money ever paid for a living black artist. Dean said, "I thought it was important that that particular piece went to an owner of color,". In some way, they show the world that people of color could also own a piece of the art market as well.
2. Lauren Simpson: Challenging Stereotypes Through Conceptual Art
Lorna Simpson's artistic approach revolves around a profound engagement with black feminism, as she places the spotlight on the experiences of black women. Through a fusion of photographs and thought-provoking texts, Simpson sheds light on the enduring oppression and violence that black women confront. By deliberately omitting facial features from her subjects, these figures symbolize a collective representation of every black woman. Although her artwork exudes subtlety, it is inherently revolutionary. Simpson's deliberate focus on black women serves to uncover, challenge, and dismantle the prejudiced and misogynistic stereotypes, injustices, and hostilities that persist. Ultimately, Simpson presents black women as embodiments of resilience, elegance, and resistance against the backdrop of racism and sexism.
Her "guarded conditions" series, created in the mid-1980s, challenges stereotypes with juxtaposed text and photographs of African-American women. Simpson's thought-provoking work led to recognition, including the African-American Museum in Philadelphia's Legion award and the John D. and Catherine T. MacArthur Foundation Genie's Grant.
3. Lynette Yiadom-Boakye: A Mysterious Elegance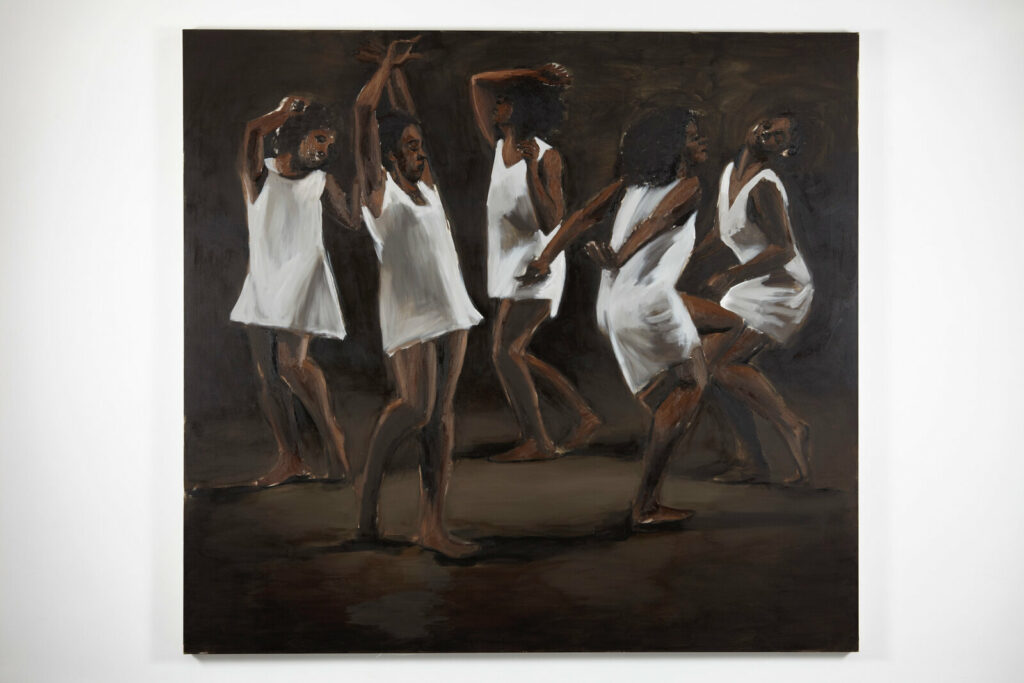 Yiadom-Boakye's paintings depict figures that spring from a blend of found imagery and her imaginative prowess, crafting entities that are simultaneously familiar and enigmatic. These canvases beckon viewers to infuse their own interpretations, sparking profound inquiries into matters of identity and portrayal.
Her subjects often emerge through spontaneous and instinctual creative bursts, seemingly existing beyond the confines of any specific era or location. Complemented by evocative titles like "Tie the Temptress to the Trojan 2016" and "To Improvise a Mountain 2018," Yiadom-Boakye's artworks are imbued with a poetic essence. Notably, her artistic process is intertwined with writing, a central facet where she articulates, "I write about the things I can't paint and paint the things I can't write about."
Yiadom-Boakye's exceptional contributions have garnered her the esteemed Carnegie Prize in 2018, and she was also honored with the Pinchuk Foundation Future Generation Prize in 2012. Furthermore, her acclaim led to a nomination for the Turner Prize in 2013.
4. Rasheed Johnson: Exploring Identity and Mental Health
Rasheed Johnson's multidisciplinary artistry is a journey into identity and mental health. His "anxious Man series" reimagines black masculinity, portraying figures obscured by layers of plants and materials. Johnson's work expanded to film with "Native Son," premiering at the Sundance Film Festival. He's a recipient of the MacArthur Fellowship and has exhibited at renowned institutions like the Whitney Museum of American Art.
5. Amy Sherald: Redefining Portraiture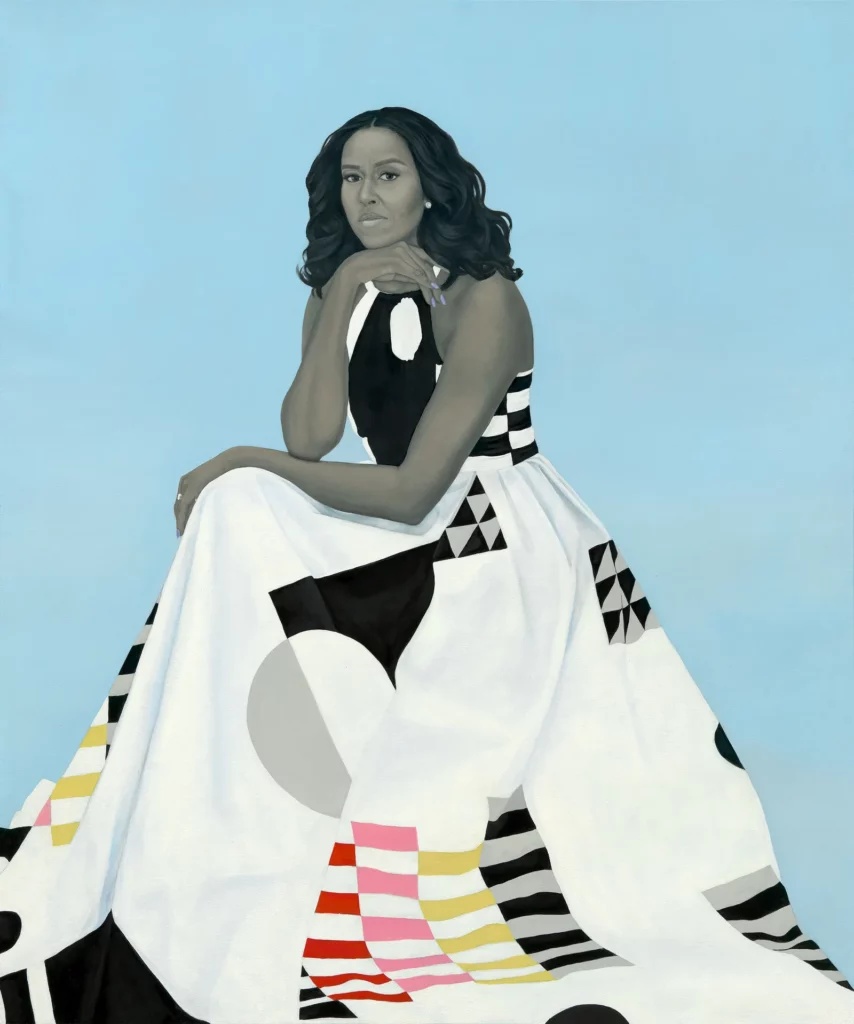 Born in Columbus, Georgia, and now based in the New York City area, Amy Sherald documents contemporary African American experience in the United States through arresting, intimate portraits. Sherald engages with the history of photography and portraiture, inviting viewers to participate in a more complex debate about accepted notions of race and representation, and to situate Black life in American art.
Her iconic portrait of Michelle Obama graces the National Portrait Gallery, challenging conventions. Sherald's unique approach earned her a fellowship from the National Endowment for the Arts and exhibitions at major museums like the Museum of Modern Art.
6. Nick Cave: Vibrant Expression Through Sculpture and Performance
Nick Cave's artistry merges sculpture, performance, and fashion. His "sound suits" transform discarded materials into vibrant, noisy costumes that comment on identity and transformation. Cave's work, displayed at institutions like the Guggenheim Museum, redefines artistic boundaries and captivates audiences worldwide.
7. McArthur Binion: Intimate Self-Exploration through Abstraction
McArthur Binion's abstract works invite viewers into intimate self-exploration. His repetitive geometric forms offer a glimpse into his identity and experiences. Binion's artistry is celebrated in prestigious collections like the Whitney Museum of American Art.
8. Mark Bradford: Urban Narratives and Mixed Media Marvels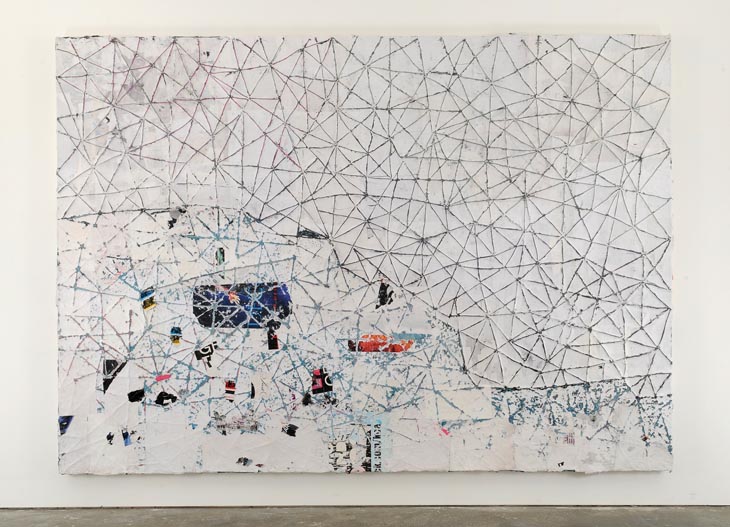 His mixed media works capture urban narratives using discarded materials. His abstract creations seamlessly fuse the realms of high art and popular culture, yielding unconventional yet captivating compositions of undeniable allure. Employing a diverse range of media, including paint and collage, Bradford ingeniously integrates fragments from everyday existence onto his canvases. These fragments encompass remnants of discarded posters, billboards, and even hairdresser's permanent endpapers.
In his artwork "White Painting," Bradford ventures into an innovative territory by employing paper exclusively to mimic the effects of traditional paint. By meticulously scratching and sanding through layers, he unveils a stratified spectrum of colors and embedded images. This intricate palimpsest-like surface draws intriguing parallels to abstract expressionism and street art, effectively recontextualizing the grandeur of high art traditions with an urban vibrancy that is explosively contemporary.
Bradford's extensive exhibitions, including representing the U.S. at the Venice Biennale, have solidified his influence.
9. Jordan Casteel: Intimate Portraits of Everyday Life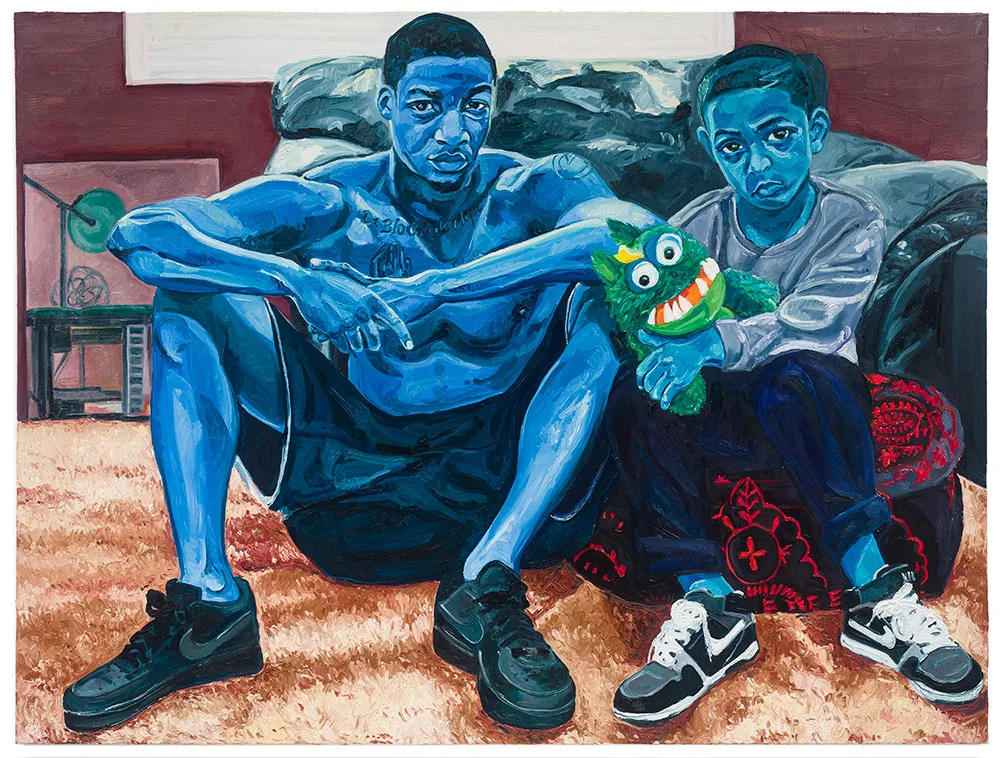 Jordan Casteel's portraiture delves beyond the surface, capturing subjects in their familiar environments. Her intimate, authentic portraits have earned her exhibitions at renowned museums like the Denver Art Museum.
10. Amoako Boafo: Vibrant Color and Cultural Celebration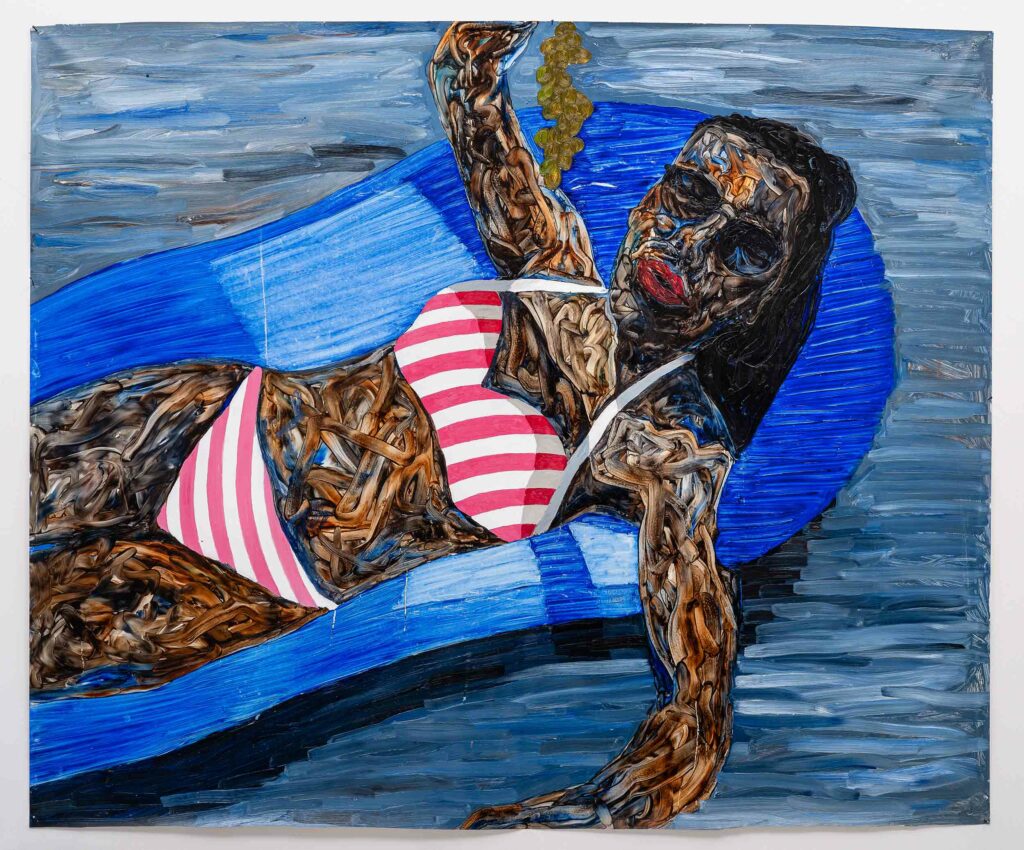 Born in Accra, Ghana, in 1984, Amoako Boafo has established a distinctive artistic practice that intricately weaves together the dual roles of art as both a mirror and perpetuator of the dynamics of representation. Rooted in his dual locations of Vienna, Austria, and Accra, Ghana, Boafo's creative journey revolves around an exclusive focus on portraying individuals within and beyond the Diaspora. His compelling portraiture delves into the essence of Black subjectivity, traversing the realms of diversity and intricacy.
Elevating his subjects to a platform of celebration, Boafo employs vivid colors and intricate patterns that serve as a deliberate contrast to prevailing modes of representation that tend to objectify and dehumanize Black identity. Beyond the striking aesthetics, what truly captures the attention is Boafo's profound ability to encapsulate nuanced emotions and critical subtleties, compelling the viewer's gaze with unwavering engagement. It is the genuine tenderness with which he renders his subjects that imparts an indelible impact upon his work.
Boafo's artistry employs a concise and potent style that masterfully encapsulates the vitality of everyday life, seamlessly bridging the gap between the familiar and the profound. His brushstrokes traverse an array of themes, touching upon the fabric of community, the struggles of a social and political nature, and the profound intimacy shared among kindred spirits.
His collaboration with Dior showcased his style on a global stage. Boafo's art has garnered acclaim, displayed in collections including the Solomon R. Guggenheim Museum and the Whitney Museum of American Art.
Conclusion
These 10 living black painters have truly shaken the art world with their innovative approaches, deep explorations, and powerful narratives. Through their works, they challenge societal norms, celebrate diversity, and shed light on important issues. As their influence continues to grow, these artists inspire us to embrace the rich tapestry of human experiences and perspectives that art has to offer.