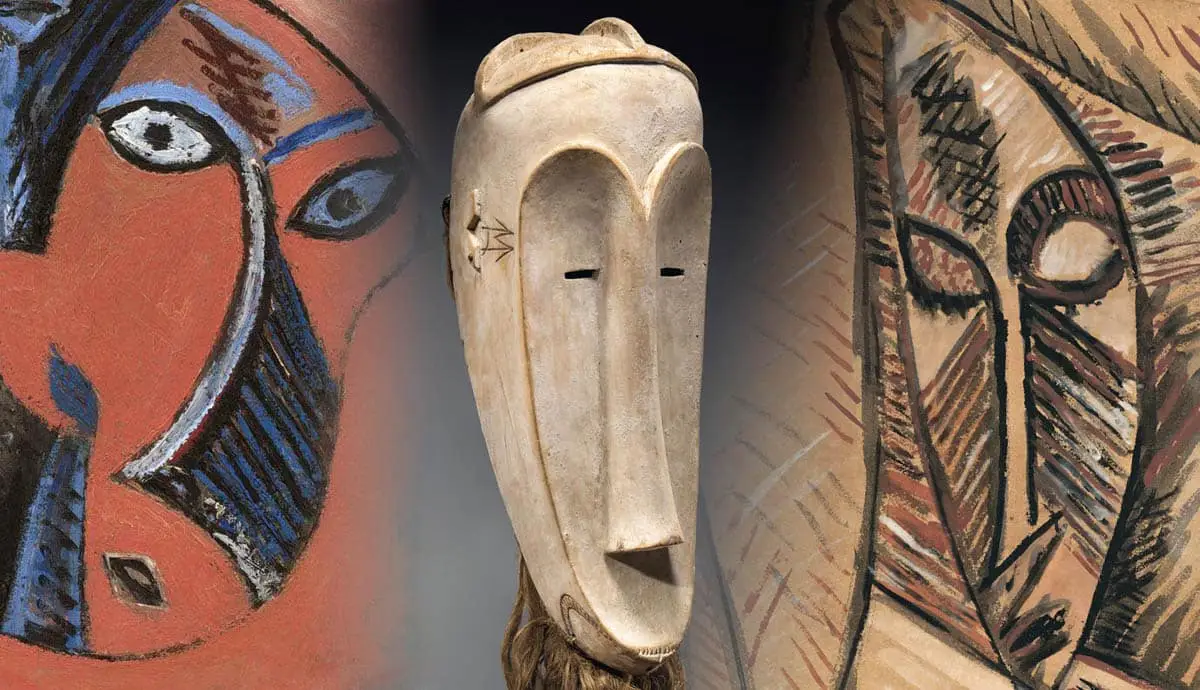 How African Art makes the Contemporary Art world better
African Art is over twenty-seven thousand years old, an art that has been underestimated by the western art world. You just need to pick up an art book labeled as a best seller from mainstream academia and I am sure that a very low percentage of them will show African Art on their pages. Or just go to a bookshop and you will see many shelves filled up with books by white masters. Did you know that Picasso's modernism is attributed to the African diaspora? An influence that has been acknowledged, of course. It is what western schools and universities teach us, the iconoclasm in Egypt, the perfection of the Greeks and Romans, the mystery and harsh times of the medieval, the famous Renaissance and its elitism, and so on. Perhaps, it is now that you understand why African Art has been forgotten for so many years in the art world. Colonialism and supremacy was existing in the arts as well. In fact, approximately 90% of the African cultural heritage is outside Africa, mostly located in Europe.
But something that the West art world didn't see coming was that African Art is deeply rooted in its cultural heritage and this kind of art can represent a whole identity and history, doesn't matter the year that was made, the technique applied, or the art form. Every art movement came to improve or break through the previous one, it was a natural development of craftsmanship. But African Art, although with its evolution, always reflected the attachment to its heritage in style. And I think that's what made African Art so special and distinctive. African Art decided by itself without knowing that it was created to stay in the art world forever.
Heritage is important because helps us to understand who we are as human beings, to know about the past and where we are coming from, and how we develop awareness about ourselves. It explains why we are the way we are. It is the keystone of our culture and it plays a huge role in so many factors as politics, society, traditions, etc. African Art helps to have a historical connection. It was one of the earliest forms of communication and preserved the process of cultural identity formation. An identity can be formed, for example, by what we wear and which materials we use, the use of color, and the variety of expression forms such as dance, music, painting, and sculpture. All these expressions can be identified with cultures but, beyond that, with communities and tribes. These foster a special and personal connection between their members. If you see, these different formations of cultural identity are human figure focused. The human figure is an important subject in African Art which makes it a human-centered practice. The artists put real people and their heritage passed from one to another at the center of the development of the process, being able to create an artwork that resonates with the audience that can relate to it but also empathizes with it. It makes African Art a vehicle of knowledge to be received by anyone that looks at it. That's how Picasso resonated with African Art. This aesthetic inspired constantly to the Schools in Paris in the early 1900s, where Picasso was a poignant figure. The figuration of the human-centred practice and ritual vs heritage purposes of African Art moved him, sophisticating the use of flat drawings and bold contouring, giving birth to the Cubism style.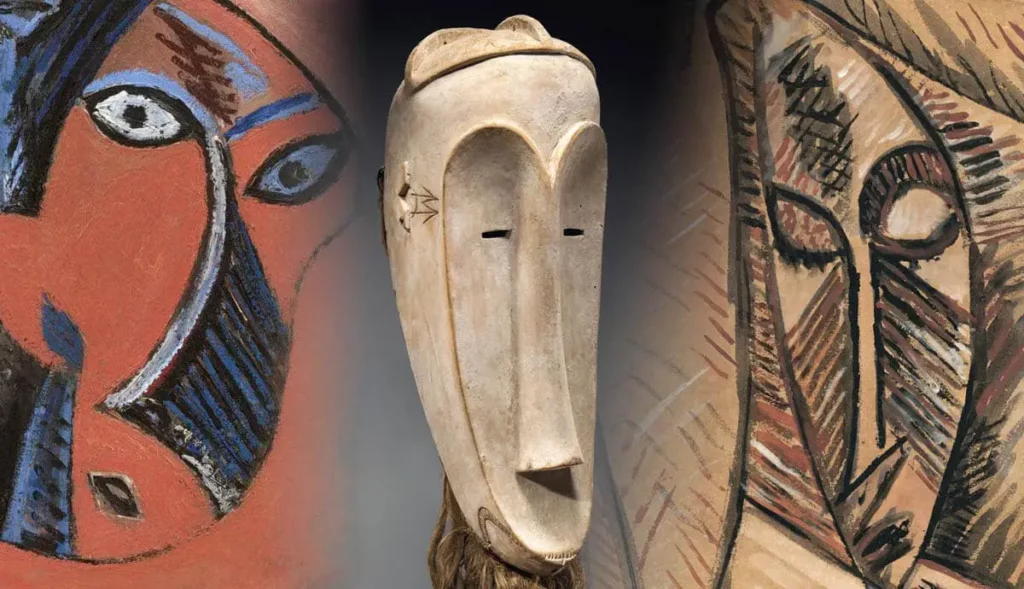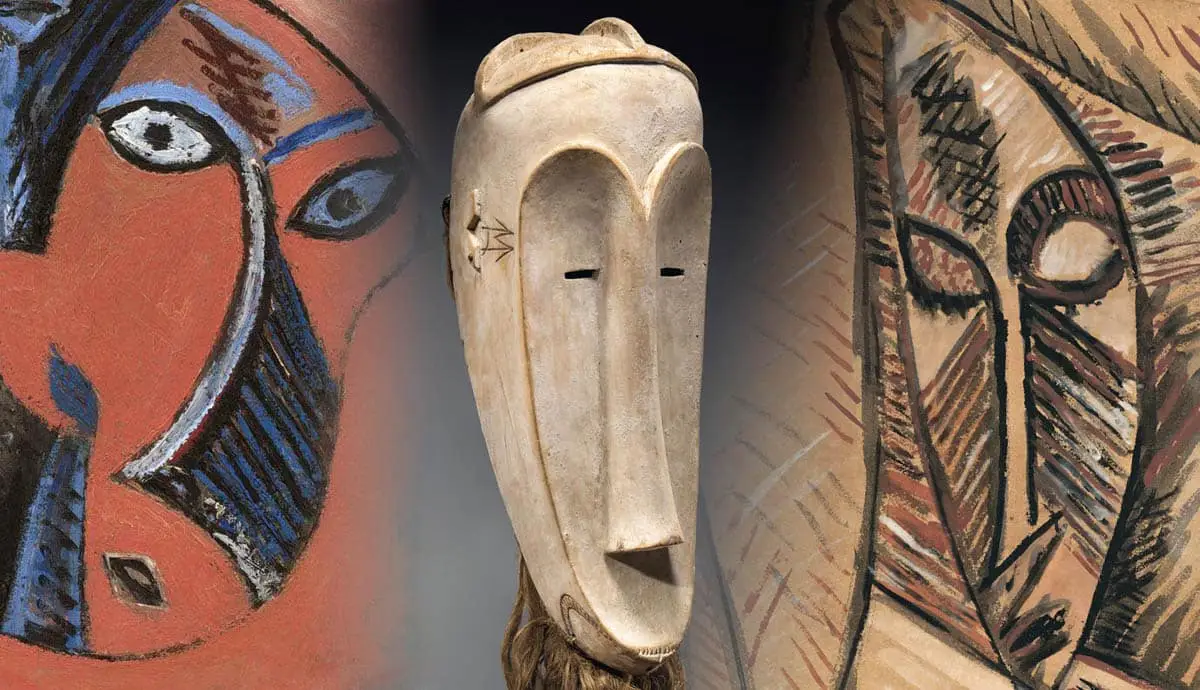 Why can African Art bring forth a total art revolution, be seen as a powerful tool, and can be disregarded when this was achieved? Well, Contemporary Art, is changing that. Contemporary Art has a very straightforward play of words. It refers to art in the present day or recent past, with an innovative nature, and provides an opportunity to reflect on society and the issues that are important to us and the world. Here is where Africa is emerging with its roots more vital than ever. Tradition implies innovation and that's how African Art has persisted throughout history until reach the Contemporary Art scene. It has been preserved beautifully until was time to shake up mainstream art history (and acknowledge where part of Picasso's inspirations are coming from) and break through a practice that needed to wipe their dusty ideas.
Whilst Contemporary Art is being used as a learning and teaching aid, when including Contemporary African Art, helps to reach the awareness needed in the transparency of African history, revealing their shadowed past along with the analysis of colonialism, the lack of narratives in museums, globalization of traditions, along with how rich African's culture and identity is. Contemporary African Art creates a dialogue that concerns a larger contextual framework than before. This started to happen after the 1970s when many African nations declared independence from their colonial rulers. In the new life in a post-colonial era, the artists dealt with issues such as a new identity, and the before and after of their experiences in life. For example:
-Lubaina Himid, a pivotal figure in the UK for her contributions to the British Black Movement, has innovative approaches to focus on cultural history while reclaiming identities;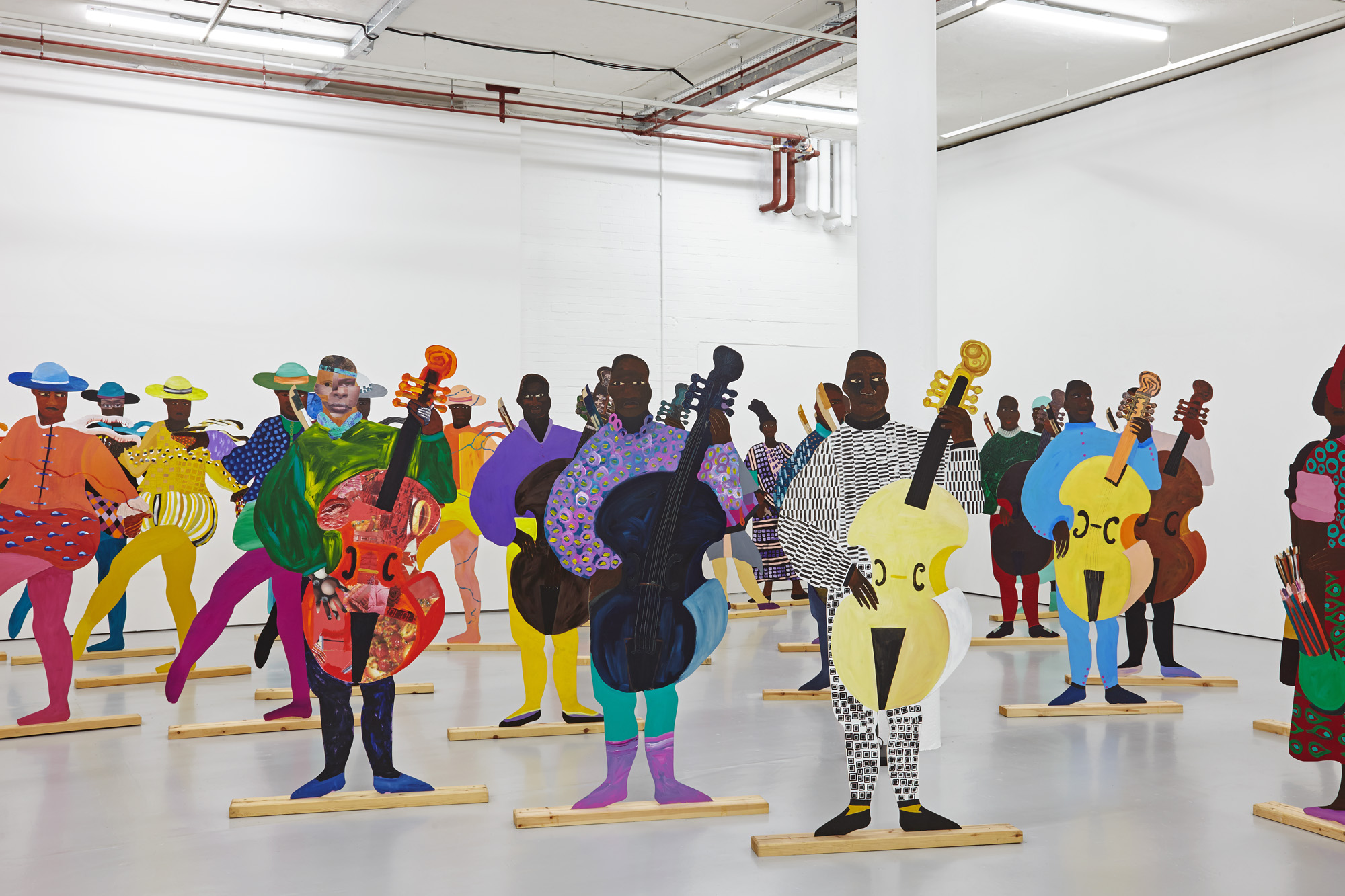 -Charmaine Chanakira and her ways to seek and reconnect with her ancestry;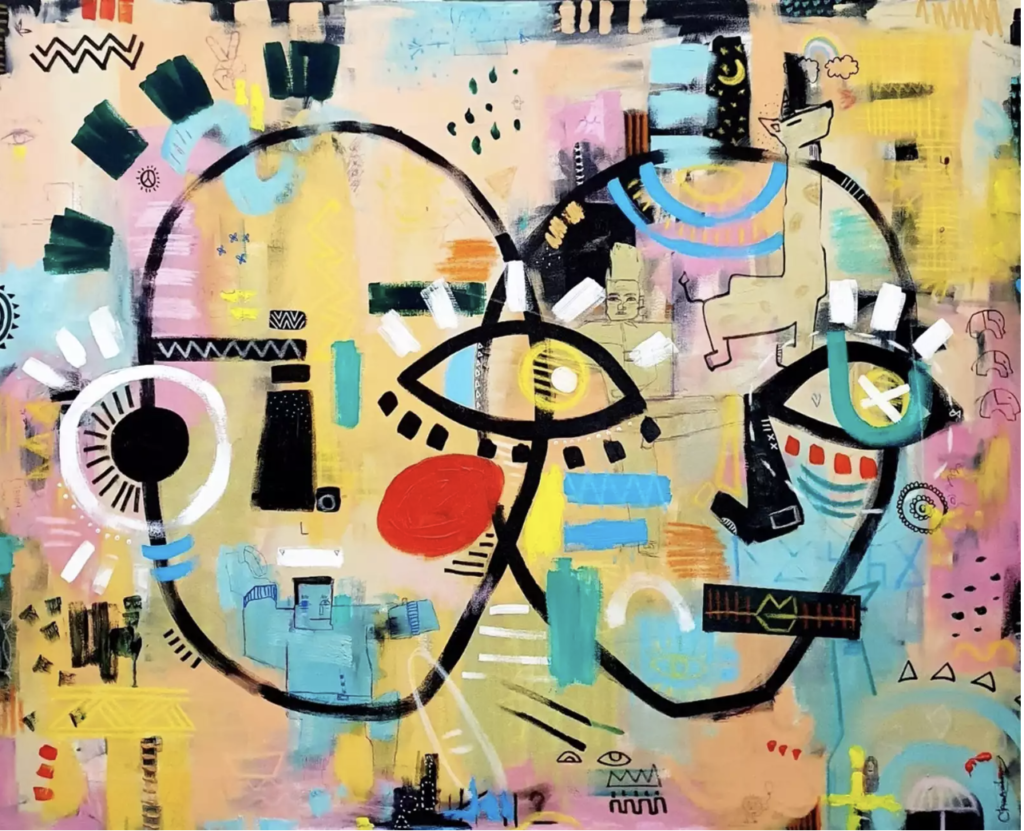 -Buhle Nkalashe celebrates the South African people and their cultural heritage through the interpretation of traditional patterns as a strong symbol of the South African ethnicity;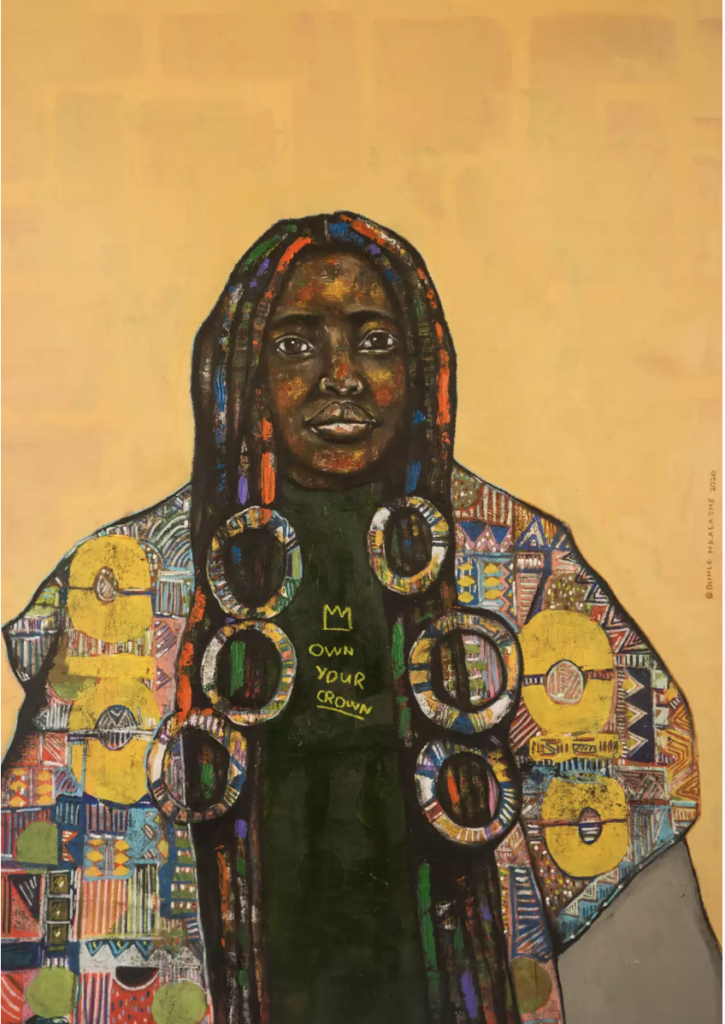 -Stephen Aifegha was influenced by his identity and culture as an African raised in Nigeria as a representation of his identity and connection to his African heritage;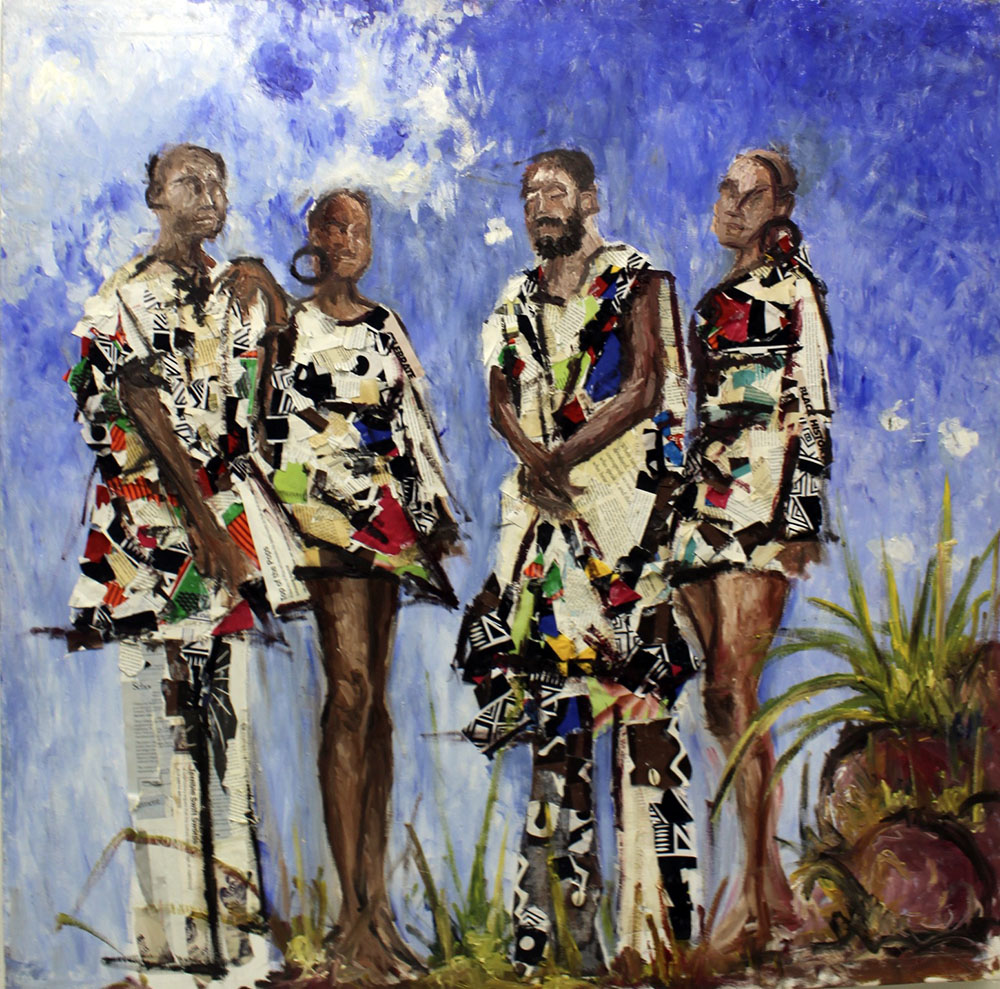 Right now, Contemporary African Art looks more devoted to gender identity in contemporary times. This broad topic indicates that feminist and queer scholars in the arts focusing on African Art have come a long way since the 1980s and early 1990s, explaining the nature of feminist and queer inquiries but also how we look at art. There was a slow development in interpreting African Art from a contemporary theoretical perspective which helps to the formation of a new cultural and social identity. Gender is how your identity relates to society's idea of what it means to be a woman or a man and if it matches the cultural expectations and their roles in society. This topic is easy to empathize with because is, still, something that many people are fighting for. For example:
-Tracey Rose, with her stunning and creative photographic work where confronts the politics of identity, including sexual, body, racial, and gender issues;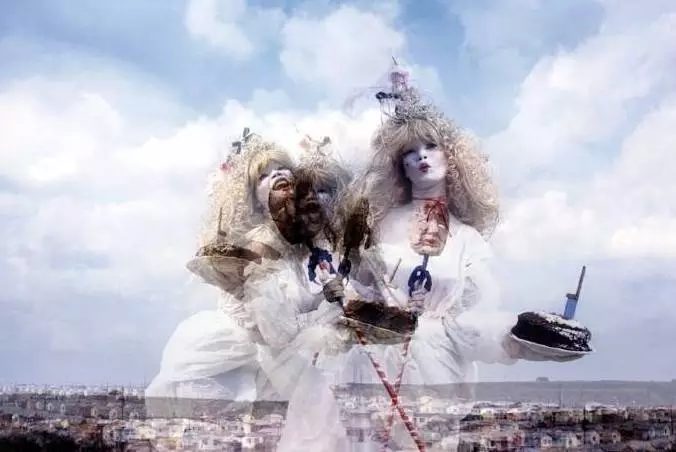 -Kawira Mwirichia, a dedicated LGBTIQ rights defender, used her creativity to advocate for the rights of both sexual and gender minorities;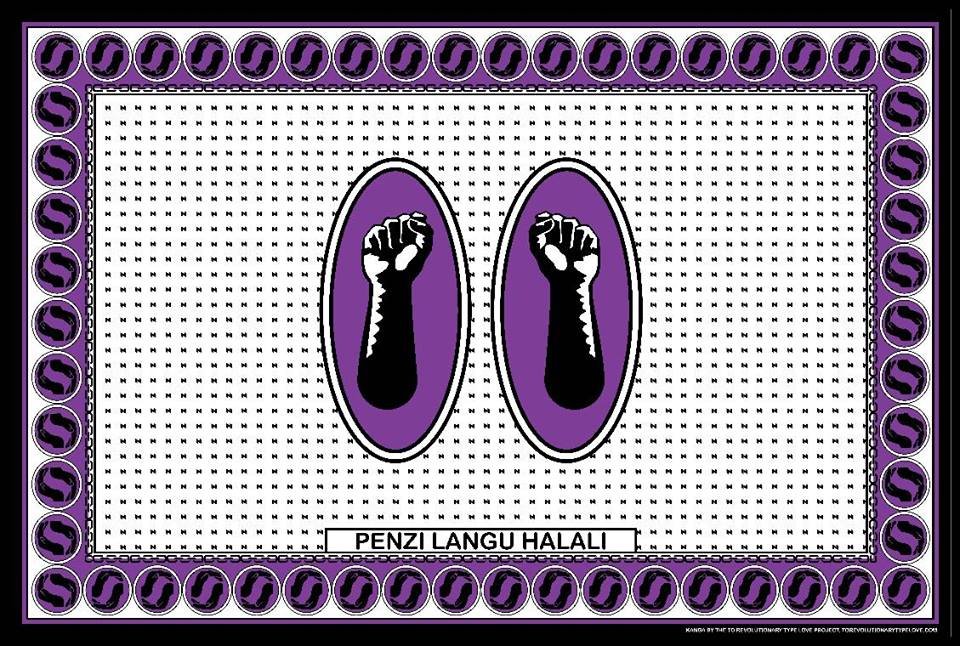 -Zanele Muholi explores Black queer identity in contemporary South Africa;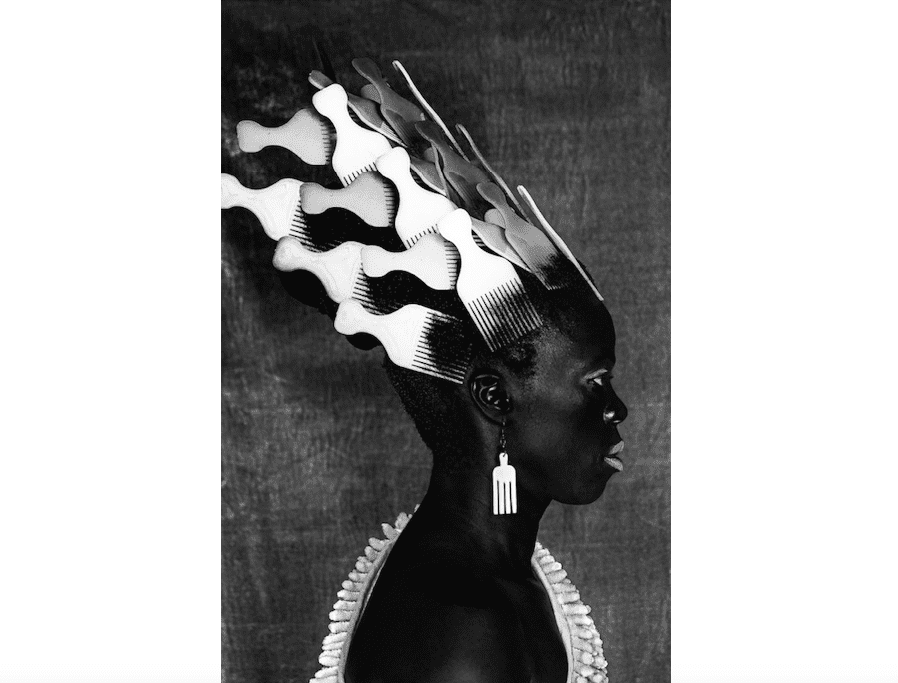 -Billie Zangewa, uses an autobiographical practice of Black femininity and everyday domesticity and motherhood as an indicative of the artist's resistance to the oppression she faces.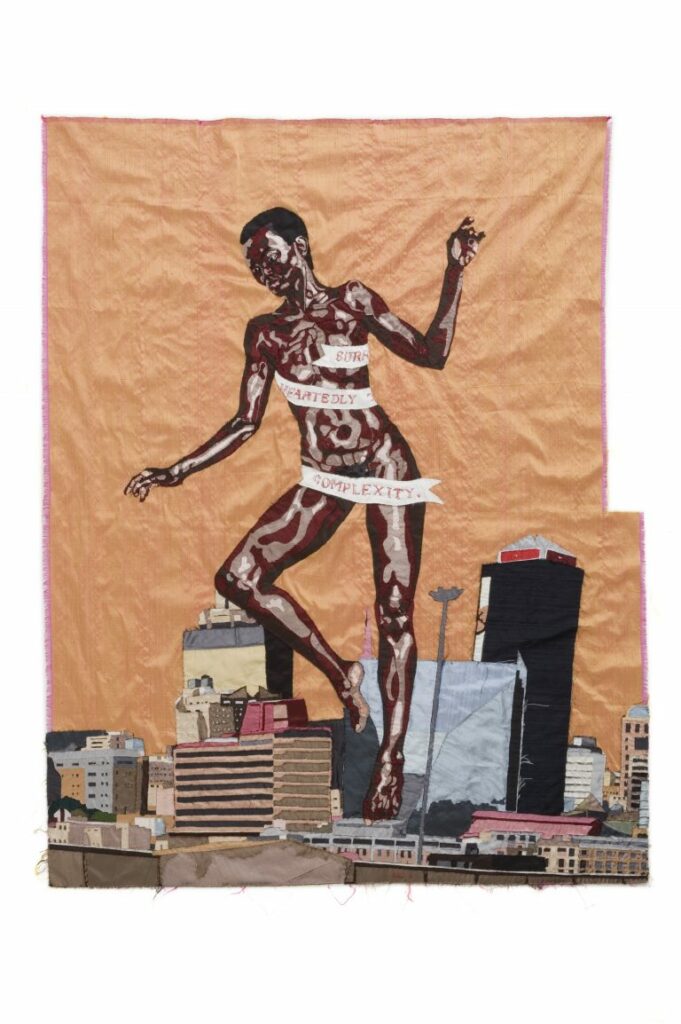 Along all these factors that many of us can relate to it, the boom of Contemporary African Art in the last two decades can be attributed to different factors such as the advances in cultural infrastructure, the online world, the major number of museums and galleries, more art fairs and exhibitions, the necessity to raise awareness and the acknowledgment of the provenance of the artworks, etc. The art world is changing! A 41.6% growth in the African art market happened last year and Contemporary African Art reached its global demand, increasing digital access due to the record of South African auction house Strauss & Co with sales for a total of $20.6 million. This was just in the African continent itself! How amazing is that? However, despiting the exciting news, the Contemporary African Art scene still relies on the West through exhibitions and international sales and, even like that, art from Africa represents less than 4% of global art sales today.
But let's keep ourselves in a positive spirit. Contemporary African Art helps us to understand better people's needs, motivations, and concerns, and also to make a more efficient work and process of creation. Contemporary African Art makes the art world better, alienating many art and artists that were considered outsiders, creating an equal foundation in an art world that is changing. It retains a strong sense of 'Africanness' while making art accessible, real, pure, and strong. Even, I would say that all that is a bit activist. So thanks to the artists, Africans, and all in between. This Contemporary African Art revolution makes me so happy.